Avantus Renal Therapy Leases 23,000 Square Feet in Harlem
---
---
Avantus Renal Therapy has signed a 15-year, 23,000-square-foot at 1361 Amsterdam Avenue, a 130,000-square-foot, 5-story office building in the Manhattanville section of Harlem.
The kidney dialysis company — part of largest kidney dialysis corporation in the country — is building out the entire 2nd floor and a portion of the ground floor, where a separate entrance and reception area will be located, said Arthur Draznin, an executive managing director with Newmark Grubb Knight Frank who represented owner Janus Properties.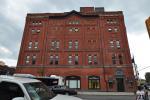 Because state-of-the-art medical equipment is being moved into the building, Mr. Draznin called it "a complicated construction project where ownership and the  tenant are cooperating to get everything completed."
The property is located within a few blocks of the public transportation, three area hospitals – Roosevelt, St. Luke's and Columbia Presbyterian.
"They're interested in serving the upper Manhattan community with this state-of-the-art facility as the largest operator of such facilities," Mr. Draznin said.  "The building is convenient to transportation, a number of hospitals and universities."
Dialysis is a process that removes waste and excess water from the blood, providing artificial replacement for lost kidney function in people with kidney failure.  Avantus Renal Therapy clinics are supervised by the the Renal Research Institute, a joint venture between Fresenius Medical Care-North America and Beth Israel Medical Center.
"RRI's primary goal is to produce measurable improvements in patient outcomes by building on a solid foundation of clinical research," according to the company's website.
Carol Sacks, a managing director for ABS Partners represented the tenant; Ms. Sacks declined to comment on the transaction.