Wells Fargo Finances Manhattan at Times Square Hotel With $120 million
---
---
Wells Fargo (WFC) provided a $120 million loan on a building at 790 Seventh Avenue to MTS Propco, according to public records. MTS Propco is the name of the partnership which has recently closed on the purchase of the Manhattan at Times Square Hotel, located on that lot.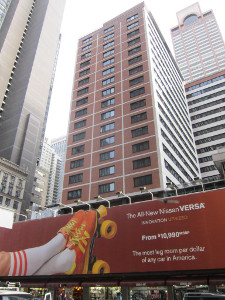 Recently, Starwood (STWD) Hotels & Resorts announced the sale of the Manhattan at Times Square Hotel to a partnership between affiliates of Rockpoint Group, Goldman Sachs (GS)' Real Estate Principal Investment Area and Highgate Holdings.
According to public records, Starwood Hotels & Resorts sold 790 Seventh Avenue for $235.1 million. In a previous communication, Starwood Hotels & Resorts stated that it had sold the hotel for $275 million in cash.
"As we continue our transition to an asset-light model, we continue to look for opportunities to sell our owned hotels at attractive prices to best create value for our shareholders, and this sale of a non-strategic asset is consistent with that strategy," stated Simon Turner, Starwood's president of global development upon the closure of the deal.
Representatives of Wells Fargo, Rockpoint Group and Starwood Hotels & Resorts were not available for comments in time for publication.
apirolo@observer.com