GroupM Considers Huge Lease to Anchor 3 WTC
---
---
GroupM, the large advertising and media company, is in preliminary negotiations to anchor Three World Trade Center in a deal that would allow construction to begin on the planned 80-story office tower.
The potential lease, which is in early talks several sources said, appears to be the closest yet developer Silverstein Properties has come to realizing construction of the hulking 2.8 million-square-foot tower designed by the Pritzker-winning architect Richard Rodgers.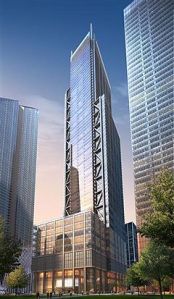 The lease would be about 550,000 square feet in size, several sources say, a large enough commitment to qualify the project for up to $600 million in public benefits in the form of a mix of equity and loan guarantees from the city, state and Port Authority. That agreement for public financial backing was struck in a 2010 deal between Silverstein and the Port Authority and requires Silverstein to contribute $300 million in equity into the tower, pre-lease at least 400,000 square feet of its space and repay the building's government backers before extracting any profits.
Silverstein has already moved forward with Four World Trade Center, a roughly two million-square foot-office tower next door that also received a public backstop from the Port Authority as well as hundreds of thousands of square feet of leasing commitments from both the authority and the city – commitments that allowed the building to receive construction financing and proceed with construction.
Until now, Silverstein has had a few close calls with Three World Trade Center, attracting interest from a number of financial tenants, including UBS and Morgan Stanley, only to see interest wane as the financial sector was battered by increased regulations that led to downsizing.
Silverstein has built the concrete core and below-ground portions of Three World Trade Center, space that is needed as part of the 16-acre complex's subterranean maze of pedestrian and retail corridors. Building systems for the Santiago Calatrava-designed PATH hub next door to the tower, as well as portions of that structure's foundation, are also tied into the base of Three World Trade Center – a level of interconnectivity that ultimately allowed Silverstein to leverage public support for at least two of the three office towers it wants to build on the site.
GroupM is a subsidiary of the giant media and advertising conglomerate WPP and has been searching the office market for months for a large space in which to relocate. The company currently has operations at 498 Seventh Avenue and other locations in Midtown that it has wanted to consolidate into a single modern office facility.
In addition to Three World Trade Center, the company is said to also have looked at the West Side rail yards and other buildings. Its leasing brokerage team, led by Mary Ann Tighe and Gregory Tosko of CBRE, have experience taking media companies to the new office towers rising Downtown. The pair, among the highest power leasing groups in the city, took part in last year's blockbuster deal to bring Conde Nast into an over one-million-square-foot lease at One World Trade Center, representing Conde in that transaction.
Ms. Tighe and Mr. Tosko, representatives at both Silverstein and GroupM, could not immediately be reached.