Sirius America Moves Domestic Headquarters to Financial District
---
---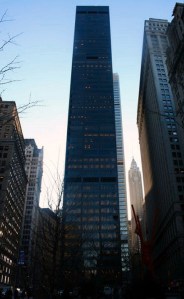 Sirius America will be moving its domestic headquarters to a new office in 140 Broadway.
The Swedish reinsurance underwriter will leave its office at 1 Liberty Plaza in favor of Union Investment Real Estate's building, which is on Broadway between Liberty and Cedar Streets.
The new office will span the entire 32nd floor, comprising 26,000 square feet, with an open floor plan. The lease term was not disclosed, but ownership was seeking a long-term tenant.
Adam Foster of CBRE represented Sirius America in the transaction. A leasing team from Cushman & Wakefield consisting of Louis D'Avanzo, Robert Constable and Willard Overlock represented the landlord. Neither party could be reached for comment.
The asking rent in the building was $55 per square foot. Sirius America's office is one of the last full-floor leases available in the building, with the remaining spaces spanning a few thousand square feet.
The building is known as the HSBC Building, named for the bank that left in 2003 to move to 452 Fifth Avenue. The prominent investment firm Brown Brothers Harriman leased 430,000 square feet of the space to fill HSBC's vacancy.
Sirius America Insurance Company is the United States division of Sirius International Insurance Group, which is based out of Stockholm. The firm also holds underwriting offices in Miami and Toronto. As of the end of last year, the company held $533 in regulatory capital, $490 in gross annual premiums and $1.8 billion in assets.
Adam Foster
,
brown brothers harriman
,
Cushman & Wakefield
,
hsbc building
,
Louis D'Avanzo
,
One Liberty Plaza
,
Robert Constable
,
sirius america
,
Sirius International Insurance Group
,
union investment real estate
,
Willard Overlock