World's Largest H&M En Route to 589 Fifth Avenue
---
---
H&M has designs on 589 Fifth Avenue. In what was a pretty closely-guarded secret, the retailer said last week that it has signed a 57,000-square-foot lease at the building, for what will be its flagship store. It will occupy six floors in the building—the ground through fifth floors, in addition to space below grade level.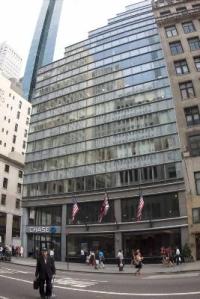 When it opens, the store will be the largest H&M location in the world and the 12th location in Manhattan. H&M didn't return an email seeking comment about the location or specifically when the new store might open. Also mum of the lease were CBRE and Cushman & Wakefield, both citing confidentiality.
However, CBRE did issue a press release about the deal, revealing that Jedd Nero was the rep for the building's landlord, Western Management. H&M was represented by Robert Gibson and Thomas Citron from Cushman & Wakefield.
Mr. Nero, whose other retail clients have included Hugo Boss, Diesel and Salvatore Ferragamo, said that not many buildings on Fifth could have accommodated H&M's needs.
"589 Fifth Avenue was one of the few buildings on the avenue with the square footage and ceiling heights capable of handling such a large and complex retail requirement," Mr. Nero said.
Daniel Kulle, H&M's U.S. president, said that the company "believes strongly in the New York City market." He added that, once completed, the new flagship would  stand out in comparison to other New City locations.
The terms of the lease weren't revealed and the duration of the lease was just referred to as being long-term. However, rents in the area have recently soared. The new store, at 589 Fifth Avenue, will sit just below the border for what's considered Upper Fifth Avenue, where the Real Estate Board of New York said in a May 2012 report that asking rents for retail had hit $2,750 per square foot for ground floor space. Asking rents where this building sits, on Fifth Avenue between 42nd and 49th streets, had risen to $900 per square foot—rising 75 percent compared to the same period a year earlier.
UPDATE: A spokesperson for H&M got in touch and said that the store is slated to open in the fall of 2013.
cgaines@observer.com
589 Fifth Avenue
,
CBRE
,
Cushman & Wakefield
,
Daniel Kulle
,
Diesel
,
H&M
,
Hugo Boss
,
Jedd Nero
,
Real Estate Board of New York
,
Robert Gibson
,
Salvatore Ferragamo
,
Thomas Citron
,
Western Management