Sentry Centers to Open New Conference Center at 32 Old Slip
---
---
Sentry Centers, a company that already operates two conference centers in Midtown Manhattan, has signed a deal to lease a 38,750 square foot space at 32 Old Slip.
In signing the lease, Sentry Centers will unveil its first conference center in the Downtown market, as was first reported by The New York Post.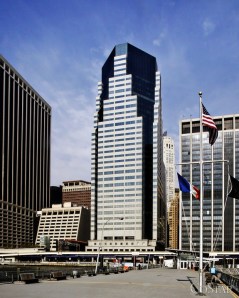 Jared Freede, Rocco Laginestra, and Michael Wellen, all of CBRE,  represented Sentry Centers in the deal. A CBRE team of Robert Alexandre, Doug Lehman, David Maurer-Hollaender, and Bruce Surry represented Old Slip Property LLC and Beacon Capital Partners, the listed owners of 32 Old Slip.
Sentry Centers new convention space will be at Goldman Sachs' former internal training and conference center at 32 Old Slip. The space will be undergoing a $3.6 million renovation and will open in December.
The company already operates two centers at 730 Third Avenue and 810 Seventh Avenue. Sentry Centers boasts that it served 64 percent of New York's Fortune 500 Companies in 2011.
Asking rents at the 1.32 million square foot Class A office building in the Financial District are at $46-a-square-foot. 
CBRE did not immediately respond to a request for comment.
In a statement, Christopher Kelly, a principal at Sentry Centers, said the company had been looking to expand into the Downtown market.
"Based on their demand and our general confidence in the local market, we have great expectations for the site and look forward to contributing our services for the benefit of the entire downtown business community," Mr. Kelly added.
Sentry Center's newest conference center will be its second largest, according to CoStar data. The company's conference center at 810 Seventh Avenue is 23,262 square feet, while its other one at 730 Third Avenue is the largest at 43,000 square feet.
drosen@observer.com
32 Old Slip
,
730 Third Avenue
,
810 Seventh Avenue
,
Beacon Capital Partners
,
Bruce Surry
,
CBRE
,
Christopher Kelly
,
David Maurer-Hoallender
,
Doug Lehman
,
Jared Freede
,
Michael Wellen
,
Old Slip Property LLC
,
Robert Alexandre
,
Rocco Laginestra
,
Sentry Centers