Silverstein Properties' Janno Lieber and Serge Demerjian Talk WTC
---
---
In the years it has taken to rebuild the World Trade Center site, Janno Lieber, a top executive at Silverstein Properties, has become the face of the company's efforts to develop its collection of skyscrapers at the site. Serge Demerjian, a development and construction manager who joined Silverstein from the architecture firm Skidmore Owings & Merrill in 2006, has become a behind-the-scenes asset at the firm, leading its efforts to negotiate the site's infamous complexities and rebuild the millions of square feet of commercial office space that was lost 11 years ago. Both men spoke to The Commercial Observer last week about all the challenges of building the towers.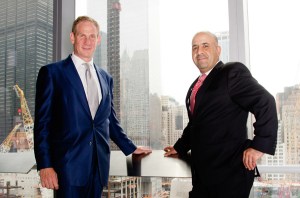 The Commercial Observer: Serge, what has your role been at Silverstein and at the World Trade Center site?
Mr. Demerjian: My role, when I got hired here, we were looking for a liaison to interface with our projects along with many of the other projects on-site, because inevitably all of the buildings touch each other.
Mr. Lieber: And reconciling the needs of each project—it's the technical design of cramming all the different things that need to be here together.
Mr. Demerjian: Everyone has their own agenda, their own needs and desires, how things should be. It's really about making sure we resolve that, because in the end, not everyone is all aligned, so you want to make sure everyone works together.
What's the lack of alignment?
Mr. Lieber: It has to do principally with space. Within the whole east bathtub you have to accommodate the hub, which has concourses, mechanical systems that are in our buildings—it needs access to infrastructure. In the case of the hub, they're literally taking several floors of our buildings and sticking their air conditioning and other key mechanical systems, generators and so on in our buildings. So reconciling how much space in our buildings and how you connect it all physically is a huge issue. There's the PATH Hub, designed to serve several hundred thousand people. They'll pass through the hub and the concourses. Then there's the needs of a performing arts center. The streets and sidewalks are a separate project. The vehicle security center is a separate project; it includes the roadways, but needs power and backup systems. I am probably boring you. How many different projects?
Mr. Demerjian: There are about 11 different projects. Eleven different sets of drawings, architects and engineers and project managers for each.
Serge, what expertise do you bring to Silverstein Properties?
Mr. Demerjian: I am an architect through training; I spent many years at SOM doing large-scale projects. Architecture and engineering and construction are my expertise.
2 World Trade Center
,
7 world trade center
,
David Childs
,
Janno Lieber
,
Port Authority of New York & New Jersey
,
Santiago Calatrava
,
Serge Demerjian
,
Silverstein Properties
,
Skidmore Owings and Merrill
,
Steve Plate
,
World Trade Center