KGS Alpha Capital Markets Takes Sublease Space at 601 Lexington Avenue
---
---
Fixed income brokers KGS Alpha Capital Markets has inked a deal to sublease 30,206 square feet of space at 601 Lexington Avenue, relocating its NYC headquarters from 850 Third Avenue, The Commercial Observer has learned. 

The company will be taking the entire 44th floor in the deal, which was previously occupied by Citadel Investment Group. Asking rents in the 5-year deal were $85-a-square-foot.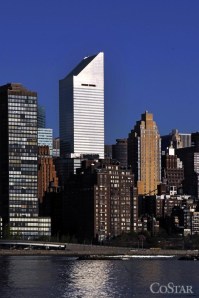 John Nugent and Sam Seiler of CBRE represented Citadel Investment Group. Andrew Sachs and Bill Levitsky of Cushman & Wakefield represented KGS Alpha Investment Group in the transaction. 
Neither Mr. Nugent nor Mr. Seiler could be reached for comment. Cushman & Wakefield did not immediately respond to an interview request.
Citadel Investments has been subleasing most of its space at 601 Lexington Avenue after its investment banking unit was sold to Wells Fargo in August 2011.
CBRE was marketing a total of 90,000 square feet of sublease space on the 48th, 45th, and 44th floors at 601 Lexington, a 59-story building owned by Boston Properties. 
In April, private equity firm Teneo Holdings, which has ties to former US President Bill Clinton and former UK Prime Minister Tony Blair, signed a sublease for the 45th floor, sized at 30,206 square feet. 
Then in July, Blackstone snapped up the 48th floor space from Citadel for a 5-year lease.
A spokesman for KGS Alpha Capital Markets could not immediately comment on the deal.
Citadel found itself the unwitting victims of construction contracting firm Aragon, which was accused of overcharging the hedge fund $1.2 million during its office build out at 601 Lexington Avenue. 
Manhattan District Attorney Cy Vance accused Aragon CEO Alex Getelman of using the stolen funds to finance his mansion at Old Brookville, NY.
drosen@observer.com 
601 Lexington Avenue
,
850 Third Avenue
,
alex getelman
,
Andrew Sachs
,
Aragon
,
Bill Levitsky
,
Blackstone Group
,
Boston Properties
,
CBRE
,
Citadel Investment Group
,
Cushman & Wakefield
,
John Nugent
,
KGS Alpha Capital Markets
,
Sam Seiler
,
Teneo Holdings
,
Wells Fargo