It's Official: Howard Grufferman Has Joined Colliers
---
---
Howard Grufferman, a former leasing executive at Grubb & Ellis, has joined Colliers International both the company and Mr. Grufferman announced on Monday.
Mr. Grufferman was one of Grubb's most well regarded and top producing brokers and executives in the leasing industry had wondered for months where he would end up after Grubb went bankrupt earlier this year.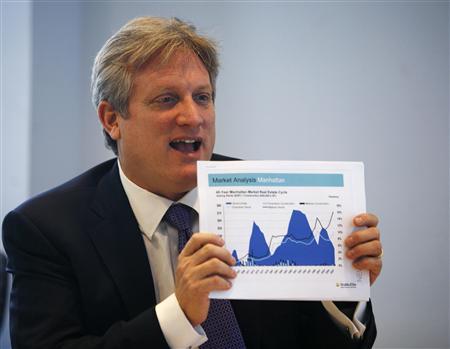 Like some other former New York City based brokers at the firm, Mr. Grufferman did not switch over to Newmark Knight Frank (now known as Newmark Grubb Knight Frank) after that company's parent BGC Partners acquired Grubb out of bankruptcy. He and others lost unpaid commissions as a result, which were ruled to belong to BGC by the bankruptcy court.
"The decision for me to go to Colliers was largely based on its footprint," Mr. Grufferman told The Commercial Observer in an exclusive interview on Monday, his first public conversation since leaving Grubb last in February when it declared bankruptcy. "It has a global platform and it has a lot of dots in the right places."
Colliers has been seeking to gain a bigger share of the ultra-competitive New York City brokerage market and remake its image into that of a sophisticated player on par with larger services companies like CBRE or Jones Lang LaSalle. A talented recruit like Mr. Grufferman would appear to be another move in that direction.
Earlier this year, Colliers made its biggest hire in recent years, bringing on Joseph Harbert, a former senior level brokerage manager at Cushman & Wakefield, CBRE and the Edward S. Gordon Company, to head its east coast operations. Mr. Grufferman said that Mr. Harbert played a large role in his decision to join the company.
"The pivotal piece for me was Joe Harbert," Mr. Grufferman said. "To me a gold standard was always the Edward S. Gordon Company in the way that it implemented a managed brokerage concept and no one implemented that plan better than Joe. He's the guy who can truely make people collaborate and make best practices happen and that's a winning formula."
Mr. Grufferman will join other successful leasing dealmakers at Colliers, including Andy Roos, Michael Cohen, who is the firm's New York chief management executive, and Bob Freedman.
"I think I will mix incredibly well with Andy and Bob and Michael, who are legends and terrifically successful guys and we're going to get to go along the path that Joe is setting up to move us to the upper tier position in the market," Mr. Grufferman said.