Other Half Brewing Set to Open in Carroll Gardens
---
---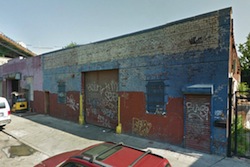 A new brewery is set to open in Carroll Gardens.
Other Half Brewing, a new brewery venture, has signed a lease at 195 Centre Street wedged between the Gowanus Express and Gowanus Canal. Sitting across from a McDonald's, the 4,000 square foot brewery is "expected to delight both local residents and New Yorkers," a representative from Ideal Properties noted.
The lease was set for a five year term with a five year option to renew. The landlord of the property was not disclosed.
Robert Caccomo, a broker at Ideal Properties Group, was instrumental in brokering this transaction. Mr. Caccomo specializes in residential and commercial units in Brooklyn. His efforts have brought several bars and stores to the neighborhood, including the popular MikNic Lounge located in the Columbia Street Waterfront District.
The opening of Other Half Brewing comes in the recent wave of beer gardens. There have always been the century old Bohemian Hall and Beer Garden in Astoria, Queens, but dozens of other beer gardens and microbreweries have popped up throughout the five boroughs. A piece in the Times pinned the influx of beer gardens as a response to the World Cup in 2010, showcasing the traditional and communal German bar.
The craze has spawned off several websites that track and list beer gardens in the city, including the Beer Gardens NYC iPhone application that currently catalogues 63 gardens and over a thousand beers with integration with GPS technology and Foursquare.