The Jordan Company Completes 399 Park Lease
---
---
Private equity firm the Jordan Company signed a 15-year, 25,000 square foot lease at 399 Park Avenue, Cassidy Turley, the company's leasing broker in the transaction announced today.
The Commercial Observer first reported the transaction in early June, one among three recent leases that got signed at the 1.75 million square foot skyscraper.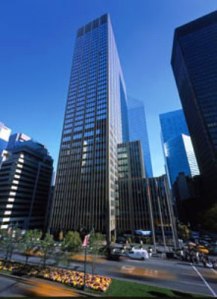 Epoch Investment Partners, another investment company, did a two floor deal and First Manhattan Company, an investment advisor, is in talks for two floors as well.
The 39-story 399 Park Avenue had six vacant floors, 27 through 32, which are each about 25,000 square feet in size. The space opened when the law firm WilmerHale recently relocated from the property to go to 7 World Trade Center.
Cassidy Turley executive David L. Hoffman, Jr. represented the Jordan Company in the deal. The building's landlord, Boston Properties, uses a leasing team from the services firm CBRE led by Peter Turchin to handle deals at the property but also had in-house rep Adam Frazier help arrange the lease.
The group of leases is the second time Boston Properties has moved to patch a large vacancy at the property. The REIT was left with a block of empty space when former tenant Lehman Brothers plunged into bankruptcy in 2008. Then too it steadily filled the hole with deals. The property is a well known office tower in Midtown, where it commands some of the city's highest rents.