Exclusive: Patagonia Takes CBGB Space
---
---
Patagonia has just signed two deals totaling over 15,000 square feet in the Bowery and Meatpacking District, including one inside the former CBGB music venue, sources told The Commercial Observer.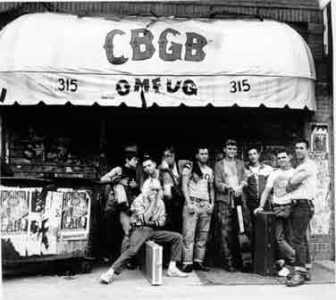 The stores will double the retailer's presence in the city. It currently has two stores, one in Soho and the other on the Upper West Side at 81st Street and Columbus Avenue.
The space–a combined 8,100 square feet on the lower level and first floor–was once home to CBGB OMFUG, the legendary music venue that launched the careers of the Talking Heads, Ramones and Debbie Harry, to name just a few pioneers of New York's punk rock and new waves scenes. In 2008, it was taken over by the Morrison Hotel Gallery.
During the same time period, John Varvatos, the high-end clothier, signed a lease next door at 315 Bowery, also former home to the CBGB venue itself. John Varvatos will continue to operate out of the space.
As for Patagonia, however, brokers said the time was right for the outdoor clothing and apparel company to expand.
"They see a lot of room to grow in the city, they are are a smart retailer, they know where peopel are buying and the city a majorly underserved market for their brand," said Matt Krell, a leasing executive at CBRE who represented Patagonia in the deals in partnership with colleague Amira Yunis.
The company has developed a reputation for its philanthropy, contributing to environmental and social causes, and for eschewed fast growth like competitors such as North Face for fear of sacrificing the renowned quality of the company's merchandise.
Patagonia will take 3,100 square feet on the ground floor and 5,000 square feet below grade at 313 Bowery and 3,740 grade-level square feet and 3,780 square feet in the basement of 414 West 14th Street. The Bowery location is in space formerly occupied by the historic rock club CBGB.
"Patagonia loves historic space," Mr. Krell said. "313 was just the perfect location. In the basement there are still the bathrooms from CBGB's time that are scrawled with all the writing from club-goers over the years."
Asking rents along the Bowery are between $100 and $150 per square foot Mr. Krell said, though he declined to name what Patagonia is paying for the space.
The Meatpacking deal had asking rents in the $300s per square foot.
"It's just incredible what has happened in Meatpacking in recent years," Mr. Krell said. "It had taken criticism for being a neighborhood crammed with luxury tenants but it kind of readjusted and now you're seeing more mainstream tenants come in and Patagonia is part of that."
Patagonia committed to both spaces long term, over 10-years.
"They're very excited to be opening these two locations," Ms. Yunis told The Commercial Observer. "These are spaces that are on the cutting edge of retail in the city right now."