Paramount Names C&W Team As Leasing Agent For 60 Wall Street
---
---
A Cushman & Wakefield team led by executives Bruce Mosler and Andrew Peretz has picked up the leasing agency assignment for 60 Wall Street The Commercial Observer has learned.
The roughly 1.6 million square foot office tower is owned by the real estate investment company Paramount Group, which purchased the building in 2007 for a whopping $1.2 billion.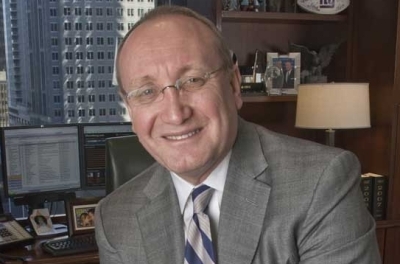 The property was nearly fully leased to Deutsche Bank when Paramount bought it but has since picked up some vacancy as the German bank has handed back space, approximately 125,000 square feet according to sources.
Mr. Mosler, who used to be Cushman & Wakefield's chief executive before stepping down two years ago to return to brokerage, has picked up a number of prominent agency assignments since going back to dealmaking, including representing the sizable portfolio of the landlord Charles Cohen.
Mr. Mosler also recently helped lease 44,000 square feet to the office suite provider WeWork at 261 Madison Avenue, another building he represents. In June, Mr. Mosler and Joshua Kuriloff, another top C&W leasing executive, arranged a 100,000 square foot sublease of space for Citibank to Xerox at 485 Lexington Avenue.
While Mr. Mosler is usually affiliated with Midtown dealmaking (though he has also helped arrange recent transactions in Midtown South) Mr. Peretz is known as a Downtown specialist at C&W.
Neither Mr. Mosler nor Mr. Peretz could be reached immediately.