1385 Broadway Proves Magnet for Chelsea, Soho Companies
---
---
In what has become a familiar story lately, Bloomingdale Properties' 1385 Broadway—a 435,000 square foot office property in what has until recently been best known as the Garment District—has grabbed a non-apparel tenant away from Soho.
Amorepacific, a luxury makeup and skincare line, has signed a ten-year lease for part of the tenth floor in the building and will move from space further downtown on Spring Street. The company was represented in the 6,200-square-foot lease by Ed Wartels from Cresa New York. Diana Gaines and David Malawer from Cushman & Wakefield represented the landlord.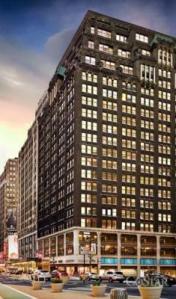 The asking rent was in the low $40s per square foot.
Ms. Gaines said that she has seen a number of companies move to the building from Chelsea and Soho, so much so that she and her colleagues have renamed the area "Chelsea North." And in fact, as The Commercial Observer previously reported and Ms. Gaines pointed out, 1385 has recently nabbed online retailer Ideeli from 148 Lafayette Street and tech company M5 Networks from 245 West 17th Street.
Asked what's driving the trend, Ms. Gaines, a senior director at C&W, had some ideas.
"In the Flatiron and Chelsea districts, the asking prices there are in the $60s at this point, and also in that area you also don't get larger floorplates," she said. "You have a lot of loft buildings that have smaller floorplates so when you have a full-floor tenant—in our building it's about 23,000 square feet—that type of space is hard to come by in that area."
The leasing success at the building, she added, has been due to ownership. "They're just an absolutely wonderful group to work for and they make it really easy because they do what they say they're going to do," she said. "Basically they took a building that hadn't been touched in 30 or 40 years and renovated the lobby and the elevator cabs and the mechanicals and the electrical systems and the boiler system and put in new windows and on and on."
The Bloomingdale family, which still owns the land under the Bloomingdale's store at 59th Street and Lexington Avenue as well as land under other city buildings, eventually regained the leasehold at 1385 Broadway from Joe Chetrit who had bought it. "But when that happened the building was predominately vacant," Ms. Gaines said. Since then, she added, she has seen the mix of tenants in the building, and area, shift.
"I've watched it change over the last three years," she explained. "When we started there it was still much more Garment Center-oriented. And I don't remember the last time we had an apparel tenant come through the building. It's predominantly the tech sector at this point. We get marketing and advertising and publishing. I would say those are the kind of big types of firms that are coming to that area now."
cgaines@observer.com
1385 Broadway
,
148 Lafayette Street
,
245 West 17th Street
,
Amorepacific
,
Bloomingdale Properties
,
Chelsea
,
Cresa
,
Cushman & Wakefield
,
Diana Gaines
,
Ed Wartels
,
ideeli
,
M5 Networks
,
Soho