Sources: $200 Million Newport Tower Loan Imminent
---
---
Newport Tower, a 1,099,767-square-foot office tower in Jersey City, N.J. is about to be refinanced, thanks to a $200 million first mortgage provided by Prudential Mortgage Capital Co. Sources tell The Mortgage Observer that the loan, which is for a term of 7 years at a rate of 3.5 percent, hasn't closed yet but should do so within the next several weeks.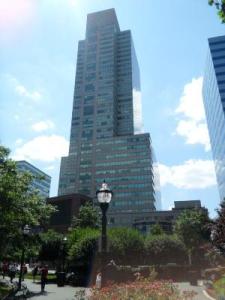 A spokesman for Prudential Mortgage Capital Co. declined to comment about the pending transaction.
Owner Bentall Kennedy bought the building, located at 525 Washington Boulevard, in October 2011 from Brookfield Office Properties for $377.5 million.
Marty Standiford, a vice president of acquisitions at Toronto-based Bentall Kennedy, declined to comment about the loan, telling The Mortgage Observer that it is company policy to not comment on pending transactions.
However, Mr. Standiford, who worked on the original acquisition, said that the building was Bentall Kennedy's entry to the New York City-area market and that the Jersey City location was attractive on several fronts.
"The basic reasoning was that we wanted exposure to metropolitan New York office and we saw this as an opportunity to do that in a way that, in our view, gave us a tremendous rent role of blue chip tenants in the building with longterm duration leases," Mr. Standiford said. "The Newport, Exchange Place submarket has great supply and demand fundamentals."
Those tenants include BNP Paribas and AXA Equitable, according to Real Capital Analytics. Competition, he added, is limited in the area due to market rents that make building new construction difficult to justify.
At the Newport Tower currently, Mr. Standiford estimated, the occupancy rate, taking into account pending leases, is roughly 93 percent.
Just last month, it was announced that the California Public Employees' Retirement System had bought a one-third stake in Bentall Kennedy, investing $100 million in the real estate advisor. CalPERS said in a statement at the time that it was a move designed to "engage the pension fund and its staff with an experienced real estate investment and management team."
cgaines@observer.com