Peter B. Cannell & Co. Takes Floor At 545 Madison
---
---
The investment advisory Peter B. Cannell & Co., is leasing 545 Madison Avenue's 11th floor, a roughly 8,800-square-foot space for 10 years.
The deal adds another lease to the list of recent transactions at the 140,000-square-foot property that have pushed its vacancy up from the downturn when much of the 17-story tower was vacant.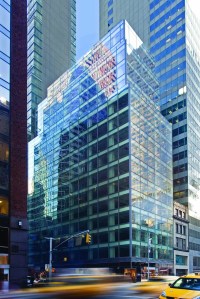 Last month, Ogden CAP Properties, a real estate investment group run by members of the Milstein family, a group known in the city for its real estate holdings, took nearly 30,000 square feet, the entire fourth, fifth and sixth floors in the property.
The leases have pushed the building, which sat half vacant during the recession two years ago, up to 88 percent occupancy.
"With an increasing demand for Class-A space we anticipate a fast track for reaching 100 percent leased," David Sigman, an executive vice president and principal at LCOR, the building's landlord, said in a statement released by the company.
545 Madison Avenue's third floor and 16th floor, which are about 9,300 and 6,900 square feet respectively, remain available. Asking rents in the building are in the $60s and $70s per square foot.
The recent deals are a major turnaround from just a few years ago when LCOR invested in a multimillion dollar renovation of the property in order to create high end space that would cater to tenants' expensive tastes at that time. The plan hit a rocky patch when the economic downturn set in. But LCOR and its leasing brokers have benefitted from the market's rebound. The work the company put into 545 Madison Avenue, including a new glass facade, has helped draw deals.
CBRE executives Gregg Rothkin, Paul Milunec, Keith Cody, Robert Kluge and Bob Flippin represent LCOR at the property. Cushman and Wakefield leasing brokers Don Preate and Jon Mayeske represented Peter B. Cannell & Co, Inc. in its deal.