Nick & Artie (Lange) Show Get New Studio-Slash-Man-Cave at 185 Varick Street
---
---
A new radio show featuring Howard Stern's former sidekick and a noted comedian has built a new TV-slash-radio studio at 185 Varick Street, The Commercial Observer has learned.
The Nick & Artie Show, hosted by Artie Lange and Nick DiPaolo and produced by DirectTV, has leased a 5,000-square-foot studio for part of the 3rd floor in the Hudson Square area office building. Asking rents in the 3-year lease were in the high $40s-a-square-foot. The deal was closed earlier in the Spring.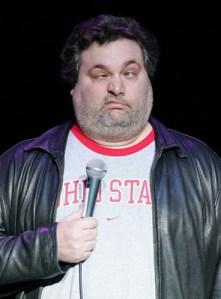 David Glassman of Cushman & Wakefield represented landlord Benjy Federbush of Varick Realty in the deal. Bill Peters of Jones Lang LaSalle represented DirecTV.
Mr. Glassman did not return a phone call requesting comment. Mr. Federbush could not be reached for comment.
The new studio is designed by the Man Caves show, a DIY Network program hosted by "licensed contractor" Jason Cameron and former NFL lineman Tony Siragusa that helps domesticated men turn a part of their homes into man-friendly hangouts.
Construction on that space finished two weeks ago, and The Nick & Artie Show is set to move in by the end of the month.
The new studio has all the trappings of a testosterone-laden man cave.
"They set it up so they have foosball games, a full kitchen, all this jazz," said someone familiar with the studio's design.
"It was an interesting deal," said Mr. Peters. "[The space is] obviously a unique use, and that posed some unique challenges."
The space will be used to both film and record Messrs. Lange and DiPaolo during their late-night show, which airs from 10 P.M. to 1 A.M.
"They are going to launch the television part of the show on August 12th," said someone familiar with the deal. Representatives from DirecTV did not return an email requesting comment.
Artie Lange is best known for his work on The Howard Stern Show and in movies like Dirty Work and Artie Lange's Beer League, among other works. Nick DiPaolo is a prolific stand-up comedian who has appeared on several Comedy Central Roasts for celebrities like Pamela Anderson and Jeff Foxworthy.
The Nick & Artie Show started in 2011.
drosen@observer.com 
185 Varick Street
,
Artie Lange
,
Benjy Federbush
,
David Glassman
,
DirecTV
,
DIY Network
,
Jeff Foxworthy
,
Jones Lang LaSalle
,
Man Caves
,
Nick & Artie Show
,
Nick DiPaolo
,
Pamela Anderson
,
Tony Siragusa
,
Varick Realty