Designer Yigal Azrouël Decamping Meatpacking Store for Upper East Side
---
---
Israeli designer Yigal Azrouël will be leaving his flagship store in the Meatpacking District for a 1,800 square foot storefront on the Upper East Side, the company announced today.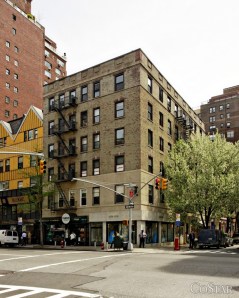 The womenswear designer will be moving out of a 2,500 square foot space at 408 West 14th Street to a new corner store on 1011 Madison Avenue, a 21,636 square foot multi-family building. 
"Their demographic is undoubtedly present in this specific area in this city," said Kelly Gedinsky, an associate director at Winick Realty Group who, along with colleague Lori Shabtai, spent two years trying to find a suitable new location for the designer.
The new storefront, on the corner of 78th Street and Madison Avenue, was formerly occupied by Luca Luca, a high-end womenswear designer.
"It was a corner location, so it offers optimal visibility for the brand," Ms. Gedinsky added. The store wanted to be in close proximity of similar high-end fashion retailers like Missoni, Intermix, and Sandro.
The new storefront at 1011 Madison Avenue will feature two floors–a ground floor space and a basement space– at 900 square feet apiece. The Yigal Azrouël store is being designed by artist Dror Benshetrit and will have a "modern, modular, and scalable concept," Mr. Azrouël said in a statement.
"When we saw this jewel box corner store, we knew it was perfect for our retail strategy," said Donata Minelli Yirmiyahu, CEO of Yigal Azrouël Inc., in a statement today. "The store, which will bear the new design concept for shop-in-shops and international retail opportunities, will offer a tightly-edited, 'best of the best' assortment including exclusives in a handful of product ranges," she added.
Shaun Moamem of Plaza Realty represented Dr. Soufer and S&S Madison Associates, the landlords of record of 1011 Madison Avenue.
The new Upper East Side store is slated to open sometime in the Fall. Yigal Azrouël will move out of 404 W. 14th Street, where it has been since 2003, on August 31, according to CoStar. 
drosen@observer.com
1011 Madison Avenue
,
408 West 14th Street
,
Dr. Soufer
,
Dror Benshetrit
,
Kelly Gedinsky
,
Lori Shabtai
,
Luca Luca
,
Plaza Realty
,
S&S Madison Associates
,
Shaun Moamem
,
Winick Realty Group
,
Yigal Azrouël