CSI Takes 24K S/F At Starrett-Lehigh For Business Incubator
---
---
The Centre for Social Innovation, an office suite company, is taking 24,000 square feet at the Starrett-Lehigh Building as an incubator for socially conscious small businesses and start up companies.
CSI, as the company's name is abbreviated, will lease a portion of the 2.3 million-square-foot office building's third floor.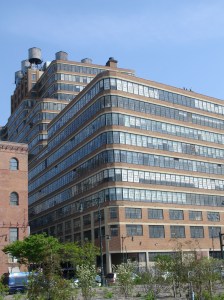 Scott Rechler, the chief executive of RXR Realty, owner of the Starrett-Lehigh Building, said CSI was exactly the type of tenant he hoped to attract when his company bought the Midtown South office building a little over a year ago for nearly $1 billion.
"This is going to be the heartbeat of setting the culture of what Starrett-Lehigh is all about," Mr. Rechler told The Commercial Observer.
Mr. Rechler's big bet on the building has appeared to pay off as tenants, especially from creative industries and the technology sector, have flocked to the area over the past year.
The location will be the first U.S. office for the Toronto-based office space provider, which offers its office suites to small companies and individuals with businesses that include a socially conscious mission .
"We have both not-for-profit companies and for profits that are involved in a host of different areas, from doing environmental education in schools to software developers who are working on mobile apps that address obesity," Tonya Surman, CSI's CEO, said.
Ms. Surman said the company has 800 people in its spaces in Canada and that tenants often thrive in the atmosphere of collaboration that CSI offers.
"When companies come into our space, on average they're generating 60 percent more revenue after two years and 70 percent have entered into a joint venture with another," Ms. Surman said.
Mr. Rechler envisioned CSI as a crossroads of sorts between the kinds of socially responsible tenants it cultivates and the greater business community in the building and the surrouding neighborhood.
"One of the things that was so interesting to us about having them here is if you look at the types of industries out there, almost every business model can incorporate a social agenda, especially the kinds of tenants that are coming to Midtown South," Mr. Rechler said. "I think that a lot of the tenants that start in CSI's space at Starret-Lehigh will find partners in the Midtown South community and in the building to adapt their mission to or work with."
Mr. Rechler said it would work both ways, indicating that a company like CSI could be an amenity to tenants in Starrett-Lehigh as well.
"This will be attractive to our commercial tenants that want to give back to something and are looking for avenues to get involved," Mr. Rechler said.
CSI will take space that was temporarily occupied by the advertising firm McGarryBowen, a Starrett-Lehigh tenant that last year reached a deal to grow by about 50,000 square feet at the property but needed immediate space to stretch into as it waited for the expansion space it took to be ready for its occupancy.
The building has several high profile tenants, including Tommy Hilfiger, Club Monaco, Hugo Boss and Martha Stuart's media company. RXR is set in the next few months to begin a $50 million renovation of the property.