Bem-Vindo! Banco Pine Signs On For First Manhattan Location
---
---
The large Brazilian bank Banco Pine has signed a 3,000-square-foot lease at 645 Madison Avenue.
The bank, which is one of several Brazilian banking groups that have made recent moves in the city, will take a pre-built office unit on the 22-story building's ninth floor for rent in the high $70s per square foot. The term of the lease stretches five years.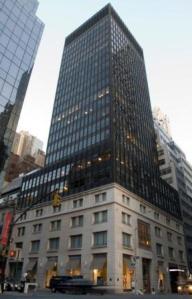 The deal will absorb one among a small handful of spaces that have opened at the roughly 200,000-square-foot building, which is owned by the real estate firm TF Cornerstone.
The remaining space on the ninth floor, a 3,900 square foot pre-built unit, as well as a 3,357 square foot pre-built unit on a portion of the 14th floor have recently become available. The entire 17th floor, a nearly 7,000 square foot space, is also empty, although a lease is pending on the space with a financial company according to Matthew Leon, a leasing executive at Newmark Grubb Knight Frank who represents TF Cornerstone at the property.
"Some of the pre-built units that we leased five years ago are rolling over," Mr. Leon said. "It has been a great opportunity for us to reintroduce the building to the market after a period where there really was nothing available."
Mr. Leon compared the property to Carnegie Hall Tower, another high-end asset owned by TF Cornerstone whose leasing he oversees.
"The buildings appeal to a similar set of tenants," he said. "645 Madison is great because it's on the East Side and is convenient for tenants looking for that location versus the West Side where Carnegie is."
TF Cornerstone renovated 645 Madison Avenue about six years ago, Mr. Leon said, updating the property's lobby and elevators. To position the pre-built units for deals, the landlord did some light refurbishment work, installing new carpeting and painting the walls among other improvements.
The office will be the first Manhattan outpost for Banco Pine, a financial institution headquartered in São Paulo. The company's deal follows a high priced deal last year done by Banco Itau on the 50th floor of the GM Building. Early last year the Safra family, which controls a banking empire in Brazil, purchased 660 Madison Avenue for nearly $300 million.