Avison Young Leases Its First Manhattan Headquarters
---
---
Avison Young is taking 15,000 square feet at 623 Fifth Avenue as space for its new Manhattan headquarters, The Commercial Observer has learned.
The Canada-based real estate services company opened in the city last year and has been operating out of temporary space offered by the office suite company Regus at 245 Park Avenue.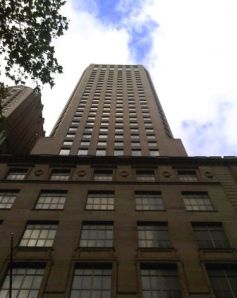 The firm is taking 623 Fifth Avenue's entire 22nd floor in a two and half year sublease from the Dublin-based bank Depfa. Rents were in the low $50s per square foot a source said.
"We're growing so fast we didn't want to commit to something for more than three years," Arthur Mirante, Avison Young's tri-state president, told The CO.
Working out of the temporary space at 245 Park Avenue allowed the firm to get started in the city but became disjointed as the company added brokers and staff, Mr. Mirante said.
"We have people all over the floor," Mr. Mirante said. "Maybe I'm getting old, but I still can't find some of them."
The availability of Depfa's space was known to Mr. Mirante because he was a former leasing agent for 623 Fifth Avenue, a building owned by landlord Charles Cohen.
Last year Avison Young quietly hired Greg Kraut, a former leasing executive at CBRE, to head up a New York outpost for the company and begin growing the office. With apirations to become a New York power, Mr. Kraut brought on several leasing and investment sales executives, including Michael Gottlieb, a top leasing broker formerly at Grubb & Ellis, as well as a prominent investment sales team led by Vin Carrega that was also from Grubb, which went bankrupt earlier this year.
But Mr. Kraut most important hire to date has been Arthur Mirante, the former chief executive of Cushman & Wakefield, who is well-regarded in the brokerage industry and is expected to help the firm recruit more top-line talent.
"We have about 30 people now," Mr. Mirante said, noting that the 15,000-square-foot space will allow the Avison room to grow.