QlikTech Grabs Pre-built Space at 292 Madison Avenue
---
---
QlikTech, a maker of business intelligence software, will be taking an entire pre-built office space on the 18th floor of 292 Madison Avenue, The Commercial Observer has learned.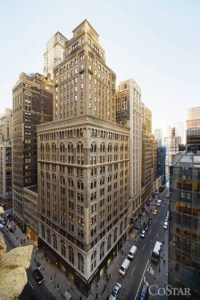 QlikTech beat out a hedge fund for the pre-built space, which is sized at 6,035 square feet and priced at an asking price of $55-a-square-foot, said those close to the deal. The lease is for seven years.
William Cohen of Newmark Grubb Knight Frank represented Marciano Investment Group, the owners of 292 Madison Avenue. A brokerage team from Jones Lang LaSalle represented QlikTech in the deal. Herald Square Properties manages the building on behalf of ownership.
QlikTech becomes the second notable tech company to move into the newly refurbished 292 Madison Avenue, which has been actively pursuing technology firms since the Marciano Investment Group bought into the building's ground fee and mortgage in 2011.
FiftyOne ECommerce took the 17th-floor pre-built space, also sized at 6,035 square feet, in March. FiftyOne ECommerce also has a fifth-floor space in the building, with a total footprint at 17,148 square feet.
QlikTech is replacing a law firm that moved out of the 18th-floor space after its lease expired.
"The previous tenant was not the direction that ownership was looking to go, whereas this [QlikTech] was exactly the type of tenant ownership wanted to move forward with," said Mr. Cohen.
The pre-built offices are designed by the Mufson Partnership and features open space, high ceilings, and plenty of ambient light.
The 187,000 Class B office building is expecting two more vacancies sometime by the fall. Both of those spaces will be remodeled as pre-built space and be brought to the market around that time, said Mr. Cohen.
A spokeswoman for QlikTech did not immediately respond to an email and phone call requesting comment. The company services 25,000 companies in 100 countries.
drosen@observer.com