Peter Freeman to Open Late Fall at 140 Grand Street
---
---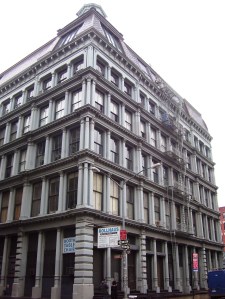 Gallery and exhibit, Peter Freeman Inc., has signed a lease for a new downtown showroom.
"They are relocating their gallery to 140 Grand Street." said John Brod, a principal and founder at PBS Real Estate. "The gallery will be located on the ground and lower level of the building. What attracted them to this 'former printing factory' space was the architecture of the building and the location just to the east of Broadway, surely an area that is up and coming."
The gallery will take 10,900 square feet between the two floors. The ground floor will serve as the gallery and the lower level will serve as either administrative desks or additional gallery space.
Matt Bergey and Sloane Rhulen of CBRE represented the tenant and Robert Neborak, a senior managing partner at PBS Real Estate, represented the landlord, Melebar Holding Co., in the transaction. The asking rent was $100 per square foot.
Peter Freeman Inc. plans to renovate and utilize the new space's 18-foot ceilings and original features such as its Corinthian columns. Exhibitions will continue to be shown at 560 Broadway until the gallery opens in late fall on Grand Street.
The gallery was found in 1990 as a gallery specializing in Pop and Minimal paintings, sculptures, and drawings of the 20th century. The gallery is a member of the Art Dealers Association of America and represents notable artists such as Mel Bochner, Alex Hay, Michael Heizer, Helen Mirra, Frank Stella, and Richard Wentworth. Peter Freeman Inc. has also recently welcomed Portugese sculptor Pedro Cabrita Reis and American painter Catherine Murphy to their collection.