Ogden CAP Deal Brings 545 Madison To 80% Occupancy
---
---
Ogden CAP Properties, a real estate investment arm of the Milstein family, has signed a 10-year, 27,000-square-foot deal at 545 Madison Avenue. The lease, for the 17-story building's entire fourth, fifth and sixth floors, has pushed the once-struggling building up to 80 percent occupancy.
David Sigman, an executive vice president and principal at LCOR, the 140,000-square-foot building's landlord, told The Commercial Observer the deal was a perfect fit for the property. 545 Madison Avenue's smaller floors, which are about 10,000 square feet apiece, typically appeal to boutique companies. Larger tenants, who would have to take multiple floors, generally prefer properties with bigger floorplates that can accommodate their size on a single level; a layout that is usually more efficient.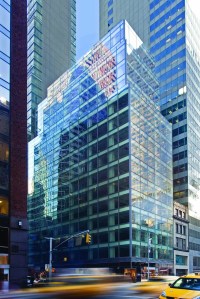 But Mr. Sigman said that Ogden CAP Properties was actually interested in the segmentation that being spaced on three different floors could provide.
"They have different units that will be on each floor, so it was actually exactly what they were looking for," Mr. Sigman said.
Mr. Sigman noted that LCOR has installed a prebuilt unit on the fifth floor that helped sell the space.
"From that unit, Ogden could see the potential of the space," Mr. Sigman noted.
The transaction is one of several that LCOR has done at the building in recent months, dramatically raising the property's occupancy levels from 50 percent only a year ago.
Last year, as The Commercial Observer reported, the company signed a five year, 8,800-square-foot lease with BHR Capital for the building's entire 10th floor, one of a handful of deals around that time that filled about 30,000 square feet.
The deals are a major turnaround from just a few years ago when LCOR invested in a thorough renovation of the property with a mind towards creating a high end boutique building that would capture big rents. The plan hit a rocky patch when the recession set in. But LCOR and its leasing brokers have benefitted from the market's rebound. The work the company put into 545 Madison Avenue, including a new glass facade, has helped draw greater interest among tenants.
CBRE executives Gregg Rothkin, Paul Milunec, Keith Cody, Robert Kluge and Bob Flippin handle the agency assignment for 545 Madison Avenue and represented LCOR in the deal with Ogden. Ogden was repped by Brian Gell and Laurence Briody.
Ogden CAP Properties is the business operated by siblings Philip and Constance, whose father Seymour Milstein founded a real estate and banking empire with brother Paul. In the late 1990s, the two brothers had an epic falling out, eventually splitting their assets. Seymour passed away in 2001 and Paul died in 2010.
Ogden's website primarily lists residential buildings in Manhattan in its portfolio.