In Yet Another Blow to Google, Deutsch Inc. Renews at 111 Eighth Avenue
---
---
The advertising firm Deutsch Inc. is renewing its lease at 111 Eighth Avenue, dealing yet another blow to Google's plans to expand in the building it forked over more than $2 billion to acquire in early 2011.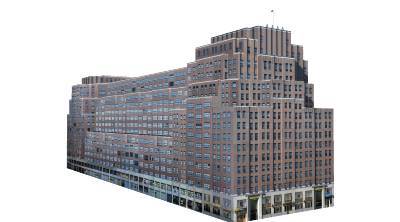 Deutsch, which was founded by TV personality Donny Deutsch's father but is now owned by the advertising conglomerate Interpublic Group, boasts about 100,000 square feet in the nearly three million-square-foot property, space that it has the renewal rights to hold onto.
Google had hoped to arrange to pay Deutsch not to exercise those options when they come available in 2014 and walk away in order to make room for its own growth in the jumbo-sized office building. Deutsch seemed on track to complying and was well into negotiations to move to another office building in Midtown South, 11 Madison Avenue. But in recent days that relocation deal died after its agreement with Google apparently broke down.
The company is at least the second setback for the Internet search giant, which has sought to clear out several tenants in the building.
Google tried to dangle an offer to Nike, the shoe and sports apparel company, which has nearly 100,000 square feet at 111 Eighth Avenue, but was unable to reach a deal with them as well.
Though Nike and Deutsch have leases that are coming due, according to sources both have renewal options built into the terms of their occupancy that allow them to tack several more years onto their time at the property for rents slightly discounted from market rate.
There are conflicting accounts why talks with Deutsch and others have broken down. One person with knowledge of Google's side in the negotiations said the company pulled its offer away after Deutsch repeatedly requested successively richer buyouts. Google was wary to keep enhancing its offer, this person said, for fear other tenants might try to similarly muscle it for higher payouts in the future.
"It was Google's decision not to do the deal," the person said. "Deutsch got so greedy and Google realized there will be many people they will have to buy out and they wanted to send them all a message. They're not going to roll over."
One landlord in the neighborhood who has met with firms that have considered relocating from 111 Eighth Avenue said he had heard it was Google that was lowballing tenants.
"Google is the one that is greedy," the landlord said.
Whatever the cause, the difficulties would seem more than the Internet giant bargained for when it acquired 111 Eighth Avenue in one of the highest priced office deals ever done in Manhattan. Ironically, Google purchased the property to solidify control of its space and it was widely expected initially that the company would expand at will as leases rolled over.
Google hasn't been entirely unsuccessful clearing space. The company is said to be close to a deal to free up about 50,000 square feet at 111 Eighth Avenue by paying the office furnishings company Knoll to move out. The television network Lifetime, another long time tenant at the building, is also leaving.
The openings are not enough for voracious Google however. The company is in the office market for at least 80,000 square feet and is looking at 450 West 15th Street, which is a neighbor to 111 Eighth Avenue, and also 770 Broadway, a large Midtown South office building.