Food Mega-Market, A La Eataly, Set to Open at World Financial Center
---
---
Executives at Brookfield Properties say the company is close to several deals for the retail space at the World Financial Center, a roughly 200,000-square-foot portion of the large office complex that the company is in the process of renovating.
In an exclusive conversation with The Commercial Observer this week, Jerry Larkin and David Cheikin, two top New York leasing executives at the company, said that a transaction was near with a food operator who will run a roughly 30,000-square-foot gourmet market in the property.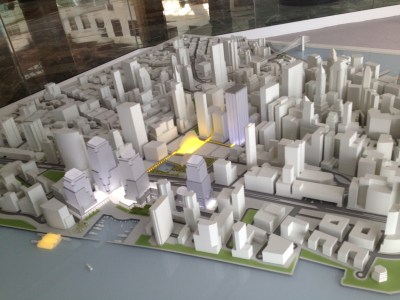 "We're talking to a handful of operators now and are about 60 days from announcing a decision," Mr. Larkin said.
Mr. Larkin and Mr. Cheikin described the market in a way that drew parallels to other successful marketplace eatery concepts in recent years, including Grand Central Market and Eataly at 200 Fifth Avenue. The two acknowledged that Brookfield is trying to find similar success but said the new space would also be distinct.
"It's going to be a slower pace than Grand Central Market where you have commuters popping in and out," Mr. Larkin explained.
"We want to create a destination where people will feel invited to stay and sit and shop and eat," Mr. Cheiken added.
Unlike Eataly, Brookfield's food market likely won't have internal restaurant components, but rather counters where shoppers can buy goods such as cheeses, meats and baked goods and also prepared foods for lunch and dinner.
Brookfield is reserving eat-in dining for the complex's second floor, where plans have been made to bring in several restaurants and create a food court with eating stations run by prominent restrateurs.
The dining space will be located in Two World Financial Center and look out on the harbor, a view that both Brookfield executives said hadn't been fully utilized by the existing retail.
"We want to take advantage of the unique element of the property," Mr. Cheiken said. "And that's its connection with the water."
The two executives also said that Brookfield is in advanced talks with several luxury retailers who will anchor space in the roughly 40,000-square-foot, two-story retail space in the complex's Vesey Street entrance between Three and Four World Financial Center.
The company wants to convert that portion of the space, which currently is home to several restaurants, into a small mall of high end stops.
In addition to the retail overhaul, Brookfield is planning an extension of the Winter Garden, a glass pavilion between Two and Three World Financial Center so that it connects with a pedestrian corridor that leads to and from the World Trade Center's transit center. The company has said the work will cost about $250 million.
Anybody know what famous chef is tied to the project? Let us know at tips@commercialobserver.com. As always, all info will remain anonymous.