DSW Opens in West Harlem Retail Center
---
---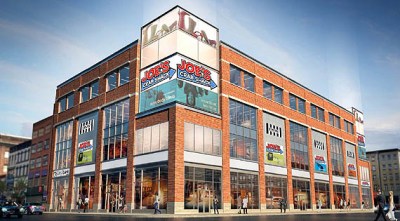 DSW is heading north and opening a new location in West Harlem.
The discount shoe store inked a ten-year lease deal for 32,000 square feet of retail space at 301-303 West 125th Street.
The West Harlem retail center is a four-story, 100,000 square foot joint development between Aurora Capital, ASH Acquisitions, and the Sigfeld Group. DSW will take 10,000 square feet on the second floor and the entire 20,000 square foot third floor.
In addition to DSW, Blink Fitness and Joe's Crab Shack signed leases at the center. Blink Fitness will take a 15-year lease for 16,000 square feet and Joe's Crab Shack signed a 10-year lease for 11,000 square feet split between two floors.
The center is in proximity to famous Harlem attractions such as the Apollo Theater and the House of Hoops.
The asking rent was set at $150 square foot for DSW's space and ground floor units. Jared Epstein represented the landlords and president and COO of Katz & Associates, Brian Katz, represented the tenant in the transaction. Mr. Katz did not respond for comment.
Earlier this year, DSW opened a three-story 33,000 square foot store on 34th Street. The company also signed a lease to take over Filenne's Basement location at 79th and Broadway on the Upper West Side. That location will measure around 32,000 square feet and is set to open in June. All of the lease transactions will bring DSW's hold to four stores in the city, including its other location on 14th Street. On a national level, DSW operates over three hundred stores in forty states and a e-commerce site at dsw.com.
apollo theater
,
ash acquisitions
,
Aurora Capital Associates
,
Blink Fitness
,
brian katz
,
DSW
,
jared epstein
,
joe's crab shack
,
katz and associates
,
sigfeld group
,
West Harlem