Mother's Day A Touchy Topic for Hate Group, But J.C. Penney Stands Firm
---
---
J.C. Penney, a nationwide retailer with ties to Vornado Realty Trust and its chairman Steven Roth, is opening a retail store and leasing office space in Soho. But as Mother's Day approaches it has hit a sour note with an affiliate of the American Family Association, a religious group that espouses hate speech.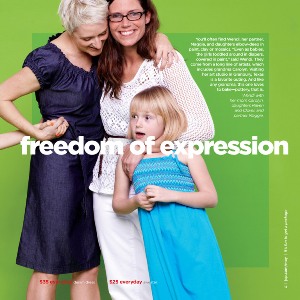 The AFA's One Million Moms is up in arms about J.C. Penney's May catalog. AFA was founded in 1977 by pastor Donald Wildmon, who led the charge against Charlie's Angels, Three's Company and Dallas. From the group's Web site, in a posting calling for action:
On pages ten and eleven, under the title "Freedom of Expression," you'll find "Wendi and her partner Maggie and daughters" and again "Wendi, daughters Raven and Clover, and partner Maggie" in text. In the picture both women are wearing wedding bands.
J.C. Penney announced a revamped brand identity in January—employing the likes of advertising agency Peterson Milla Hooks and Ellen DeGeneres to inject new life into its commercial campaigns. Execs also rolled out a new "Fair and Square" pricing strategy. When One Million Mom's went into hysterics over Ms. DeGeneres' appearance as a company spokesperson, J.C. Penney stood its ground.
Now One Million Moms encourages moms to get on the horn and call their local J.C. Penney store managers, saying "local store managers are more likely to listen to your concerns and pass them along to the corporate office." They're urged in the action alert to "be kind" and to ask thought-provoking rhetorical questions of the store manager such as "What was the purpose in stating on page eleven that Wendi and Maggie are partners?"
Vornado keeps a close eye on its J.C. Penney investments and on the retailer's efforts to revitalize its image, saying in its annual report that it would "hold for now, the non-core 23.4 million shares of J.C. Penney to reap the benefit of the Company's transformation under CEO Ron Johnson (creator of Apple retail business) and president Michael Francis."
The AFA couldn't be reached for comment, apparently busy mobilizing a response to President Barack Obama's endorsement of marriage equality. A J.C. Penney spokesperson emailed The Commercial Observer a statement, which would indicate that the company will hold its ground in this case as well.
"As J.C. Penney focuses on becoming America's favorite store, we want to be a store for all Americans," the statement reads. "In celebration of Mother's Day, we're proud that our May book honors women from diverse backgrounds who all share the heartwarming experiences of motherhood."
Earlier this month J.C. Penney signed a 15-year lease for retail and office space at 200 Lafayette Street, a building owned by Commercial Observer owner Kushner Companies. It will mark the first time J.C. Penney has set foot in the fashion forward neighborhood.

Additionally, Mr. Roth, chairman of Vornado Realty Trust, is a member of the retailer's board. The REIT has an 11 percent interest in the retailer, according to its 2011 Annual Report—23.4 million shares—which were valued at $653.2 million as of December 31, 2011.
Meanwhile, according to the USDA, 16.2 million children were living in food insecure households in the United States in 2010. It was unclear what actions AFA was taking on this issue.