In Times Square, Nevermind the Knick-Knacks, Here's the National Retail Brand
---
---
When he first took the job of president of the Times Square Alliance in 2002, Tim Tompkins had heard a persistent complaint from those who worked and lived in the neighborhood: The retail options stunk, composed mainly of the remnants of tourist-only shops that sold New York-branded T-shirts and similarly hokey knick-knacks. In short, the retail scene in the The Crossroads of the World was slow to catch up with the rapidly shifting residential and office demographics of the Times Square and Hells Kitchen neighborhoods.
"If you think about it, 15 years ago you didn't have Ernst & Young, didn't have Reuters, didn't have Condé Nast; the Viacom building was filled with government agencies, and you didn't have the 11 Times Square building across from the Port Authority," Mr. Tompkins said. Then those businesses arrived, and suddenly the need for an "I (heart) New York" T-shirt was quickly being replaced with a need for everyday goods, like cosmetics and regular apparel.
"Part of what we did is we realized there was this enormous untapped spending potential for all the people who are working in these buildings," Mr. Tompkins said.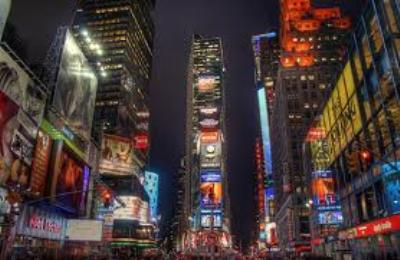 Sephora arrived, as did Quiksilver, Aéropostale, Toys 'R' Us and American Eagle. As the shopping options in the area improved, so did the price per square foot.
"It's on fire," said David LaPierre, an executive vice president on CBRE (CBRE)'s global retail services team, of average asking price in the area. "I think asking rents [will] continue to increase."
The "Bowtie" heart of Times Square, spanning from 42nd Street to 47th Street, experienced a 28.3 percent hike in the first quarter of 2012, closing out at $1,967 per square foot, according to a Cushman & Wakefield (CWK) report. Average asking rents go from $1,200 to $2,500 a square foot. These prices are a vast improvement from the $1,000-per-square-foot asking rents seen in 2009—and may soon surpass neighboring retail areas.
"I believe that the rents in Times Square may ultimately outpace Fifth Avenue," said Susan Kurland, executive vice president at CBRE. One benefit of the area is the closing times for most Times Square shops, which often extend well into the witching hour, she noted.
"On Fifth Avenue, if you walk around 7 o'clock at night, the stores are closed," Ms. Kurland said. "When you go to Times Square, you go to the theater, you can then go out to dinner and then go shopping."
While Times Square remains a late-night shopping draw for night owls with cash to burn, don't expect many high-end retailers currently located on Fifth in the 50s to migrate south to 42nd Street.
"While I don't think, in my lifetime, you'll see any of the typical luxury retailers on Fifth Avenue wanting to be in Times Square, you are absolutely seeing all the other large-format retailers who have recently established presences on Fifth, or who have been on Fifth for quite some time, who are now looking at Times Square," said Alan Schmerzler, an executive director at Cushman & Wakefield.
Affordable retailers such as H&M, which has a shop at 505 Fifth Avenue, have been rumored to be exploring opening new stores in Times Square in the hopes of duplicating the success of stores like Billabong, Sephora, American Eagle and Sketchers, to name a few.
"The volume of deals is not significant, because there's just not a lot of real estate available, but I think all real estate that is there has activity at very, very high levels," Mr. LaPierre said.
Recent activity has been encouraging: 11 Times Square, a building that has stood largely vacant since it opened two years ago, signed Russian restaurant company The Global Food Company to a 25,000-square-foot lease for the ground floor and the mezzanine.
With new options like Jeff Sutton's 1552 Broadway and a new retail space at 120 West 42nd Street (as part of the Knickerbocker Hotel redevelopment), it may soon become a lot harder to find a novelty T-shirt.
"Times Square has now demonstrated that it is a very viable shopping area for more than just low-end T-shirts," Mr. Schmerzler said.
drosen@observer.com
11 Times Square
,
120 West 42nd Street
,
1552 Broadway
,
Aeropostale
,
Alan Schmerzler
,
American Eagle
,
Billabong
,
Conde Nast
,
David Lapierre
,
Ernst & Young
,
H&M
,
Hell's Kitchen
,
Knickerbocker Hotel
,
Quiksilver
,
Reuters
,
Sephora
,
Sketchers
,
Susan Kurland
,
The Global Food Company
,
Tim Tompkins
,
Times Square
,
Times Square Alliance
,
Toys R Us
,
Viacom
,
CBRE
,
Cushman & Wakefield