Dorma Group Opens Sixth Avenue Showroom
---
---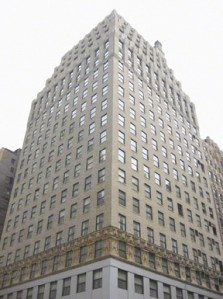 Dorma Group North America will be opening its first New York showroom at 1040 Sixth Avenue.
The firm will be taking a 8,400 square foot unit on the 22nd floor of the 24-story, 300,000 square foot historic Art Deco building. The asking rent was $52 per square foot and the lease was set for ten years.
"They liked the full floor presence and being next to Bryant Park," said David Dusek, a senior managing director at Studley and broker for the tenant. "They want to be close to their clients which are in some cases architecture and design firms."
Newmark Grubb Knight Frank is the exclusive leasing agent for the building and its own executive vice president and principal, William Cohen, and senior managing director, Ryan Kass, represented the Skyline Properties in the transaction.
Skyline Properties works under its parent company, Garden Homes Development, who owns and manages five residential properties in Manhattan: Tower at 20 West 55th Street, The Rockfeller Townhouses, 41 Broad Street, 265 Madison Avenue, and, of course, 1040 Avenue of the Americas. On a national level, Garden Homes has four national offices and owns and manages over 50,000 apartment units and 25,000,000 square feet of retail centers, office buildings, and hotels. It remains as one of the largest residential and commercial real estate builders in the country.
The Dorma Group was initially founded in 1908 as Doerken & Mankel KG by Rudolf Mankel and Wilhelm Doeken. The company has since grown into a leading international manufacturing powerhouse and supplier of automatic door systems, controls, and components. It currently owns state-of-the-art manufacturing and production facilities on four continents and employs over 5,500 workers around the world.