Mirante Expected to Buoy Avison Young While Questions Linger for C&W
---
---
Arthur Mirante, a former CEO and high-profile broker at Cushman & Wakefield, is leaving the firm to become the tri-state president of Avison Young, the real estate services company announced this morning.
The move gives the firm, which has a sizable presence in Canada but is only a budding brand here, a big name in the Manhattan real estate services industry.
Mr. Mirante was C&W's longest serving chief executive, guiding the firm from the mid 1980s until 2005 when he ceded the position to Bruce Mosler, who he later partnered with in 2010 to form a top level brokerage team.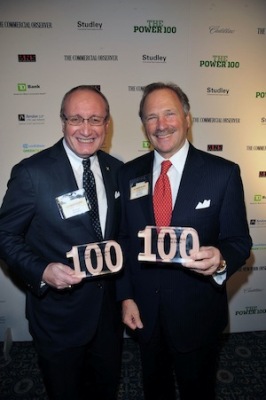 On Wednesday afternoon, Mr. Mosler told The Commercial Observer in an exclusive conversation that Mr. Mirante had pursued the deal at least in part to get back into a management role.
"He's an incredibly thoughtful and talented guy who was the architect of a lot of C&W's success," Mr. Mosler said. "I think Avison Young has found someone that they can really build a presence in the city with. Arthur and I will continue to be very close friends."
Mr. Mirante's background before he was a CEO was as a lawyer and he only started doing brokerage after his career as C&W's chief. His tenure as a dealmaker at the firm was widely viewed as successful. But, as his hiring demonstrates, his reputation as a leader became perhaps even a more valuable asset at a time when the city's brokerage industry appears to be realigning.
In recent months, the Wall Street firm BGC Partners has made a much talked about push into the brokerage business by buying up Newmark Knight Frank and then merging it with Grubb & Ellis, the national real estate platform it bought out of bankruptcy earlier this month. Other players like Avison Young meanwhile have made a lower key entrance into the market in recent months. The company brought on former CBRE broker Greg Kraut to help open its New York office last year and, unlike BGC which has been expanding in headline-grabbing leaps and bounds, has been slowly and quietly building its presence in the city.
Mr. Mirante's hiring is the highest profile move the company has made in the city yet and would appear to buoy its image at a time when it is trying to attract more talent.
"Arthur is the perfect guy for Avison Young, he has a really respected image in the brokerage business and the recognition to give them instant credibility," said Joel Herskowitz, a top New York executive at Lee & Associates, another brokerage company that recently opened a Manhattan branch. "I think he'll give a lot of brokers the confidence to join the company."
Mr. Mirante's departure underscores deeper questions at C&W. For years the company has been rumored as an acquisition target for larger firms, though it has denied that it will be sold and recently released earnings statements for 2011 that showed it was profitable.
Mr. Mosler, Mr. Mirante's brokerage partner for the past two years, has been the subject of speculation as well, including that he may potentially switch to a rival firm. In his conversation with The Commercial Observer today, Mr. Mosler struck down those rumors as he has on recent occasions in the past.
Mr. Mosler said he will also continue to service some of the large accounts that he shared with Mr. Mirante, including the agency assignments for Manhattan West, a huge office complex that Brookfield Properties is planning to build near the West Side rail yards and the landlord Charles Cohen's large Manhattan holdings.
Mr. Mirante couldn't be reached for comment by press time.