French Kiss: The Romance Between Trinity Real Estate and Parisian Advertising Behemoth Havas, Revealed!
---
---
On the first day of March, Havas chief executive officer David Jones joined a conference call and webcast with the press to announce his company's 2011 financial results.
For Havas, a French marketing services group owned by billionaire Vincent Bolloré, the year was a good one. Its revenue grew 5.4 percent to $2.2 billion, 23 percent of which came from digital and social media activity.
Then, the English businessman told the media and, in effect, the world that beginning on Sept. 1, Havas would be rebranding Euro RSCG, the largest firm in Havas's portfolio, as Havas Worldwide.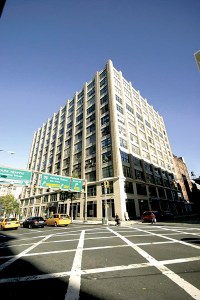 The rebranding was about efficiency, integration and consolidation.
"We have a simple structure and we want to show that we are better integrated than our competitors as well as being more agile and fleet footed," said Mr. Jones at the time.
In addition, Havas would continue to merge its media and advertising operations in nearly all its cities of operations, from Paris to Chicago, together under the same roof.
Putting both groups in the same office would offer "cross-fertilization" opportunities while also allowing all firms to share back-office functions, a person close to the company said.
Havas made such a move at Le Madone tower, a Parisian office building the firm bought for 152 million euros, or $197.6 million, from UBS Global Asset Management's real estate unit in September. The shift to the tower, located in the suburb of Puteaux, was initiated to bring both the Euro RSCG and the Havas Media companies together to form its new French headquarters. The move would also reportedly save the firm 20 million euros a year on rent expenditures.
Havas "brought together 2,300 employees there late last year," said Annette Stover, global chief of staff for Euro RSCG Worldwide, in an email to The Commercial Observer. "We are looking at doing the same around the world as opportunities arise."
One such opportunity to put this new strategy into effect was in New York City, where Havas had three offices scattered throughout Manhattan.
But one part of the city that the firm had an especially longstanding and well-publicized relationship with was the Downtown market.
195 Broadway
,
200 Hudson Street
,
350 Hudson Street
,
Andrew Peretz
,
Annette Stover
,
Cushman & Wakefield
,
David Falk
,
David Jones
,
Euro RSCG
,
Havas
,
Havas Media
,
Havas Media Planning Group U.S.A.
,
Havas Worldwide
,
Jason Greenstein
,
Jason Pizer
,
Le Madone
,
marc packman
,
Nancy Wynne
,
New York City Job Rentention and Creation Program
,
Newmark Knight Frank
,
Puteaux
,
Robert Constable
,
Trinity Real Estate
,
UBS Global Asset Management
,
Vincent Bollore