$26.5 Million Sale of Daytop Building May be Stymied by Bankrupcy
---
---
Daytop Village's bankruptcy earlier this month may stymie a nearly two-year old deal to sell its Bryant Park headquarters a source told The Commercial Observer.
In 2010, the drug and alcohol treatment facility reached an agreement to hand the 50,000-square-foot building, 54 West 40th Street, to investor Eric Hadar for $26.5 million. The transaction was arranged to close however only after Daytop found space to lease so it could relocate – a deal it never secured.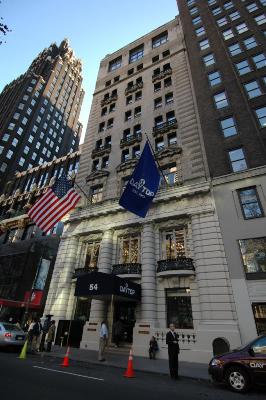 On April 6, Daytop filed for Chapter 11 bankruptcy protection, disclosing that it owed $33 million to Signature Bank and Hudson Valley Bank, debt that was backed by $50 million in real estate assets.
A source said that Daytop's creditors may now want the rehab center to go back out to market and sell the property all over again to capture gains in real estate values over the past two years. Commercial real estate in Manhattan has come surging back since the recession to near-boom level prices, suggesting it is possible another sales auction for 54 West 40th Street could yield a higher price than Mr. Hadar agreed to pay in 2010.
Mr. Hadar owns the neighboring property 50 West 40th Street and has long-reaching plans to eventually combine the site with 54 West 40th Street and develop an up to 250,000-square-foot mixed use project that could include hotel, residential and office components the source said.
Mr. Hadar couldn't be reached for comment by press time.
An investment sales team led by the prominent sales executive Richard Baxter that was at Cushman & Wakefield in 2010 but now is at the rival brokerage company Jones Lang LaSalle , handled 54 West 40th Street's sale to Mr. Hadar in 2010.