Weight Watchers Gets Big on West 48th Street
---
---
The only expanding Weight Watchers will be doing in midtown is at 64 West 48th Street.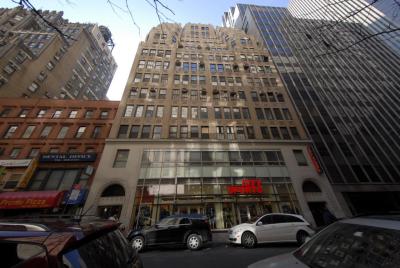 The international dieting company has signed a 10-year-and-four-month lease to take part of the 14th floor, sized at a healthy 3,000 square feet, at the Muss Development LLC property, located in Rockefeller Center.
The new office will act as a "meeting space" for Weight Watchers' trademark group meetings and member weigh-ins. Weight Watchers, which is currently leasing out temporary space in the building, will be moving into their new digs at the end of May.
Grace Sardell of Sardell & Company represented Weight Watchers in the deal. Ross Spitalnick of Muss Development represented the company in-house. Asking rent in the building is high-$40s for the top portion of the building and low-$40s for the lower floors.
While 64 West 48th Street is "strictly" an office building, the Muss Development decided to experiment with a new type of tenant space that straddled the line between retail and office.
"With them being a strong national tenant, it made sense to the building," said Jason Muss, a principal for Muss Development.
The Rockefeller Center location also helps Weight Watchers in that its midtown users now have a convenient spot to visit the diet specialists during the workday.
"They're a good tenant, they have had a long history of being a top corporation in this country for a long period of time and we felt they would be a great addition to this building," said Mr. Muss.
The Muss Development bought the 130,000 square foot, 17-story building in 2008 and has since embarked in a multi-million capital improvement program to turn it into a "first-class boutique office building", the company said in a press release.
Xerox, On Press Graphics, and Carrera Casting all have office space in the building. Muss Development currently has two availabilities in the building: a 4,000 square foot space on the 15th floor and a roughly 8,000 square foot space on the 9th.
Daniel Edward Rosen is reachable at drosen@observer.com