PFM Management Inks Deal at 40 Wall
---
---
Demand for space at 40 Wall Street continues to grow with news yesterday that the Trump Organization-owned building's leasing agency signed financial advisory group PFM Management to a ten-year lease on the 49th floor of the office tower.
Public Financial Management, which does business as PFM Asset Management, is taking 9,263 square feet of turnkey space on the entire 49th floor of 40 Wall Street, brokers involved with the transaction exclusively told The Commercial Observer yesterday. Asking rents were in the low $40s.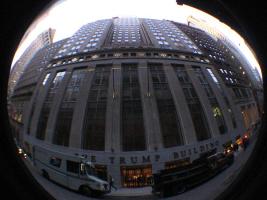 A Cushman & Wakefield team lead by Jeffrey Lichtenberg that includes Jared Horowitz, Gabe Whitman, Courtney Adham and Andy Peretz represented the Trump Organization in the deal.
Jonathan Mayeske and Jonathan Fein, also of Cushman and Wakefield, represented the tenant.
Leasing activity continues to flourish in 40 Wall Street, which just years ago faced daunting vacancies and unsteady management. Donald Trump, Jr., who has had 40 Wall Street under his stewardship for the past few years, helped turn the asset into an appealing office tower by offering favorable deal incentives. PFM Asset Management received 5 months free in its lease deal with 40 Wall Street, said those close to the deal.
Mr. Trump is the brother-in-law of Jared Kushner, who owns The Commercial Observer.
Mr. Lichtenberg, who heads the exclusive Cushman and Wakefield leasing team for 40 Wall Street, said the building had three more deals in the pipeline, all for pricier space at a higher part of the tower, that is was close to finalizing.
"There's a lot of activity," Mr. Lichtenberg said. "Everybody's bitching that activity's dying, and we're as hot as can be."
Companies like Duane Reade, the Harry Fox Agency, and Leslie E. Robertson Associates have all inked big office leases at the building. Duane Reade also inked a deal this year for ground-floor retail.
While activity is picking up, there are challenges that lay ahead for Mssrs. Lichtenberg and Trump.
Insurance firm CNA is set to move out of its office space (at a size of up to 135,000 square feet) on March 31st, two years before its lease expires.
But there are a few deals afoot for the building, including a couple of deals in the soon-to-be-vacant CNA space, and the aforementioned deals in the tower portion of the building.
40 wall street
,
Andy Peretz
,
CNA
,
Courtney Adham
,
Cushman & Wakefield
,
Duane Reade
,
Gabe Whitman
,
Harry Fox Agency
,
Jared Horowitz
,
Jared Kushner
,
Jeffrey Lichtenberg
,
Jonathan Fein
,
Jonathan Mayeske
,
Leslie E. Robertson Associates
,
PFM Asset Management
,
Public Financial Management
,
Trump Organization