Erving Walker's Florida Gators Fall to Louisville, CBRE Mom Still Proud of Him
---
---
The senior season for Erving Walker, star point guard of seventh-seeded Florida Gators and son of longtime CBRE employee Kim Woodruff-Walker, came to a disappointing end last Saturday when his team fell to the fourth-seeded Louisville Cardinals.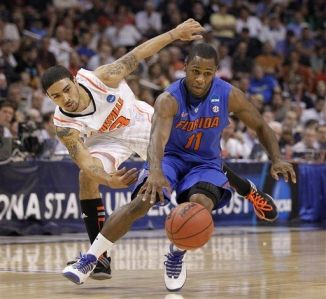 Ms. Woodruff-Walker, who flew to Phoenix to watch her son play at the US Airways Center, said that the 72-68 loss to Louisville was a tough one to stomach. But the Gators' run in the NCAA Tournament was fun while it lasted.
"The ending (of the game) was a little shaky and questionable," said Ms. Woodruff-Walker, who returned to New York City yesterday.
The Cardinals went on a 23-8 run during the final 10 minutes of the game to lead Rick Pitino to the Final Four in New Orleans.
"We don't know what happened," said Ms. Woodruff-Walker, who works as an executive assistant for CBRE (CBRE) Executive Vice President Glenn Isaacson. "We just gave it away, no disrespect to the other team."
As for Erving, who just played his last game as a Florida Gator, he and his mom are more focused on graduating with a degree in sports management.
"He graduates in May 5th, so I am concentrating on that now," she said.
drosen@observer.com