75 Broad Street Notches 4 New Leases
---
---
75 Broad Street, the JEMB Realty-owned building in the Wall Street/Bowling Green area of Manhattan, has signed four new leases totaling 60,000 square feet in the office tower.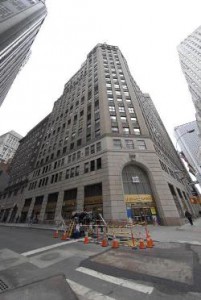 Cushman & Wakefield officially announced the deals Wednesday, including The New York City Opera deal for 16,936 square feet for the building's 10th floor that was first reported on by Commercial Observer reporter Daniel Geiger on December 3 of last year.
CraigMichaels, Inc., a 10-year-old company that produces senior level events and business summits and the like, has signed a lease for 10,200 square feet at 75 Broad Street, according to a press release.
Craig Michaels was represented by Mitch Waldman of Cogent Realty. He could not be immediately reached for comment. JEMB Realty was represented by a Cushman & Wakefield team lead by Frank Cento. 
CraigMichaels Inc. is known for coordinating events like the upcoming ArchiSpec Summit, an event for senior architects and heads of specification that will be held at the Loews Lake Las Vegas Resort in Henderson, NV, from March 25-27. The company also hosts The Campus Development Summit in Palm Springs, CA., The Sustainable Operations Summit in New York, and The Retail Facilities Summit in Henderson, NV.
The company is relocating from 15 Maiden Lane, where it was occupying just over 4,000 square feet, said Craig Lehmann, president and CEO of CraigMichaels, Inc.
The new office space will accommodate the company's rapid growth – it grew from 22 employees to 43 in just under a year, said Mr. Lehman.
In the past ten years, the company has also increased the number of events it hosts across the country, from 1 in 2002 to 15 today. As the company is in a growth mode, it is looking to hosting events outside the US.
The appeal of having a full floor, along with the 75 Broad Street itself, was enough to convince the company to sign a lease.
"Obviously what was important for me to make this decision was not only getting a full floor presence, but to have windows on all four sides," he added.
"I not only like the building, but also the people we deal with," he said. "It has a fantastic art deco lobby, the management is on site, and they great pride in the building," Mr. Lehmann said of JEMB Realty.
On-Line Residential, an NYC residential listings site, also signed a deal to take 7,124 square feet at 75 Broad Street, it was also announced. On-Line Residential, which currently has offices at 50 Broad Street, was represented by Ken Beilin of Kenneth Beilin Realty. CTC Americas, Inc. also signed a lease in the building for 3,800 square feet. Jonathan Fein of Cushman & Wakefield represented the tenant.
The 32-story 75 Broad St. recently underwent a $35 million capital improvement program, which included a lobby restoration that added ceiling murals and a "holographic building directory and high speed connectivity," according to the release.
The new tenants will also have access to a state-of-the-art emergency generator farm for the building.
drosen@observer.com