W.P. Carey & Co. Founder, Real Estate Legend: R.I.P.
---
---
Wm. "Bill" Polk Carey, founder and chairman of investment management firm W.P. Carey & Co. that specialized in the acquisition and management of single-tenanted commercial real estate, died yesterday of natural causes at a Florida hospital, his company announced.
He was 81.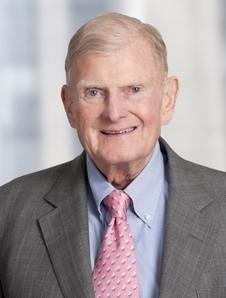 In 2009, W.P. Carey & Co. paid $225 million for 21 floors at the New York Times Building at 620 Eighth Avenue under a sale-leaseback arrangement, with the newspaper agreeing to lease out space in the building for up to 15 years.
W.P. Carey & Co. has 1,000 commercial and industrial properties under management—totaling 120 million square feet—in North America, Europe and Asia. It currently has $12 billion in assets under its care.
"Bill was unwavering in his devotion to our shareholders, and he was especially proud that we have been able to provide increasing income to them, while providing our tenant companies with the capital that allowed them to grow their business and prosper," said Trevor Bond, CEO of W.P. Carey & Co., in a statement yesterday.
Mr. Carey was also very active on the philanthropic front. He started the W.P. Carey Foundation, which gave sizable endowments to schools like Johns Hopkins University—where he helped start the Carey Business School through a $50 million grant to the school—and to Arizona State University.
Last April, the Foundation set up a $30 million endowment for the Francis King Carey School of Law at the University of Maryland, named after Mr. Carey's grandfather, who graduated from the school in 1880.
Mr. Carey was also a direct descendant of President James K. Polk, the 11th President of the United States who served from 1845 to 1849, the firm said.
"Bill was not only an insightful businessman but a wonderful brother and a good citizen," said Francis J. Carey, Mr. Carey's brother.
Mr. Carey was in the company of family and friends at the Good Samaritan Medical Center in West Palm Beach, Florida.
Daniel Edward Rosen, Staff Writer, is reachable at DRosen@Observer.com