Interior Decisions: Alan Gaynor & Co.'s Michele Boddewyn Looks Back on 2011
---
---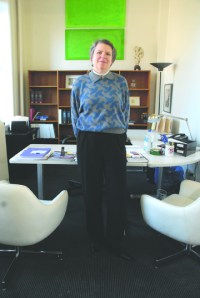 Earlier this year, Alan Gaynor & Co. president Michele Boddewyn played an instrumental role in winning a Women's Business Enterprise designation for the 36-year-old architectural firm. While that coveted badge has lured new business to the company, Ms. Boddewyn, a member of the American Institute of Architects, has not turned away from the vast assortment of clients who have kept the company busy since it was founded nearly four decades ago. Earlier this month, the architect spoke to The Commercial Observer about that new designation, eco-friendly build-outs and a flood of work from the health care and medical industries that is keeping her active.
The Commercial Observer: Recently, Alan Gaynor & Co. became a Women's Business Enterprise. How does that benefit the company and its ability to attract new clients?
Ms Boddewyn: A lot of people don't know what it stands for. It benefits you in two ways. A lot of the larger corporations, like the Goldman Sachs, are looking to show diversity in their spending and have diversity directors and diversity departments. Since they have a large spending budget for everything from paper towels to professional services, they're being encouraged to show diversity in how they're spending, that not everything goes to big business, but that a decent amount goes to small business and sometimes even to reflect their buyer base. So if you're a Hispanic-based company, say something like Goya Foods, you want to show that you're funneling money back into the community that your consumers are coming from. A lot of these companies, I don't think there's any true goodwill. It's more looking good, like the Goldman Sachs of this world. I don't think they really give a hoot about diversity, but they want to look good as part of their public relations.
If I understand correctly, the company has also been active in the medical field?
As my father's fond of saying, we're all getting older, and we all need doctors. The most recent project … was for a group of orthopedic surgeons whose practice has grown, and they're just really taxed where they currently are. Everyone's been bumping into everyone else, so they're about tripling their space in terms of the number of exam rooms, and they're doubling their X-ray equipment, more rooms to staff, the billing, the scheduling, all the parts and pieces that go with running a group medical practice. In the past three years we've done more in that area. I also get the sense that landlords haven't always been friendly towards medical practices because they're high-volume traffic, so some people have done things like create a medical arts building where it's the same all the way through. You're not disturbing residential tenants with dental patients who are coming every half hour or something.
How is that sector changing from an architectural point of view? Or is it?It's funny.  Design-wise, I see it as sort of a—what's the term? Work life? I see the design going that way of it's more liv
ing room in terms of sort of the patient areas, in terms of—who was it who made the analogy that American cars are the automotive version of your living room in terms of comfortable seats and the sound systems and so forth? I feel that all the doctors' offices I've been to of late that are new, plus this one we're designing, it's again sort of this living-room concept, a feeling that it's more almost residential in terms of the carpets and plants and the lighting and so forth, where I think before medical was much more about being hygienic, and that sterile was a good thing. Now, I definitely see a shift over to more of a living room or—Starbucks is too strong, but that sort of sense of it's a public place, but you're meant to be put at ease. There is a coffee machine there, and the furniture looks more like what you would have, maybe not quite in your living room, but it's approaching that in terms of comfort and a residential feel.