Guggenheim Partners Seals Deal at 330 Madison Avenue
---
---
Guggenheim Partners, an investment firm that grew from administering the vast private wealth of the Guggenheim family in the early 1900s to a multifaceted financial firm, has signed a large lease at 330 Madison Avenue for its New York headquarters, sources revealed.
The deal comes one month after The Commercial Observer first reported that Guggenheim was looking to take space at the building in November.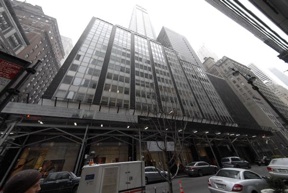 The company will take 186,000 square feet at the nearly 850,000-square foot-building, which the property's landlord Vornado Realty Trust has spent over $100 million in recent years renovating.
Guggenheim Partners will relocate to the space when its current lease at 135 East 57th Street expires in 2013.
The firm will take a collection of floors in the building—8, 10, 11, 15, 18 and 32—for rents in the $70s per square foot. The term of the deal stretches for 15 years.
Vornado has drawn tenants to 330 Madison Avenue in part with an ambitious program to update the property's facilities. The landlord, one of the largest owners of commercial property in the city, replaced the building's lobby and facade as part of the recent work and updated systems like the tower's heating and air conditioning.
The company anticipates receiving a LEED Silver certification at the building for the upgrades, a coveted benchmark of energy efficiency and environmental sustainability.
Guggenheim had been touring available spaces in the market for months, brokers familiar with the firm said, and earlier this year it appeared to lock up a deal at 1251 Avenue of the Americas. That transaction fell apart however when Natixis, a French bank that Guggenheim was planning to take the space from, was unable to complete a deal to move to another midtown tower, 9 West 57th Street, and hence needed the roughly 200,000 square feet of offices it had at 1251 Avenue of the Americas.
The deal at 330 Madison Avenue is a substantial expansion over Guggenheim Partners' existing space at 135 West 57th Street, a building owned by Cohen Brothers Real Estate. According to sources, Guggenheim has less than 140,000 square feet there, almost 50,000 square feet less than what it is taking at 330 Madison Avenue.
Guggenheim's lease at 330 Madison Avenue is the second major deal at the property in as many years. In 2010, the real estate services company Jones Lang LaSalle took about 82,000 square feet in the building for its New York headquarters for rents in the $60s per square foot.
Peter Hennessy, a top executive at the real estate services firm Cassidy Turley, represented Guggenheim in the lease. Frank Doyle, an executive at Jones Lang LaSalle, leads an agency team that handles leasing at 330 Madison Avenue. In-house leasing executives at Vornado, including the company's director of leasing Glen Weiss and executive Thomas Costanzo, also oversee deals at the property.
Daniel Geiger, Staff Writer, is reachable at DGeiger@Observer.com

1251 avenue of the americas
,
135 East 57th Street
,
330 Madison Avenue
,
9 West 57th Street
,
Cassidy Turley
,
Cohen Brothers Realty
,
frank doyle
,
Glen Weiss
,
Guggenheim Partners
,
Natixis
,
Peter Hennessy
,
Thomas Costanzo
,
JLL
,
Vornado Realty Trust