EXCLUSIVE: Health Care Provider Healthfirst Expands By 60,000 Feet
---
---
Healthfirst is expanding by roughly 60,000 square feet at 100 Church Street.
The company, a healthcare provider, already occupies about 170,000 square feet at the property, space it took last year in a move to relocate and consolidate its operations in the city.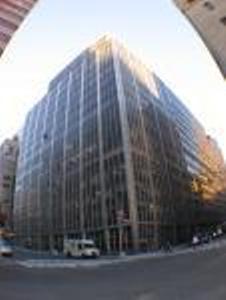 In its original deal Healthfirst leased floors 16 through 18. The firm will now be adding the entire 14th floor to its space in the 1.1 million square foot downtown office building. Rents at the property are in the $30s per square foot according to market sources.
Derek Trulson, an executive at the real estate services firm Jones Lang LaSalle who represents Healthfirst along with other JLL (JLL) executives, said the company wanted the space in order to assure that it would have room to grow over the term of its lease. The healthcare firm signed a 20-year deal last year, locking it in long term at the property. The amount of vacant space at 100 Church Street meanwhile has begun to dwindle as owner SL Green has embarked on an aggressive leasing campaign.
Healthfirst doesn't need all of the space immediately Mr. Trulson said, but wanted to take the available floor while it was still available.
"They didn't want to wait until they were under pressure," Mr. Turlson said.
Healthfirst will sublease out a portion of the new space that it doesn't yet need, about half of the floor Mr. Trulson said. Mr. Trulson and colleagues Bill Peters and Daoud Awad will market that roughly 30,000 square foot availability.
100 Church Street long struggled with large blocks of vacancy under its previous owners, the Sapir Organization, which lacked the capital and reputation to properly reposition the asset. SL Green ended up taking control of the building in 2010 through a foreclosure on mezzanine debt it held against the property. The firm, which is considered the biggest commercial landlord in the city, has since renovated the building and rattled off a string of deals. Healthfirst was one of the most significant transactions. It signed a lease to come to the property in the summer of 2010 so that it could bring together two offices it previously had at 25 Broadway and 123 William Street.
SL Green also signed a lease last year with Centerline Capital Group to take the entire 15th floor.
Mr. Trulson, Mr. Peters and Mr. Awad represent Healthfirst. SL Green uses an agency team from the real estate services firm Newmark Knight Frank led by Newmark executives Lance Korman, Brian Waterman, Jimmy Kuhn, Jonathan Fanuzzi and Hal Stein to handle leasing transactions at the property.
Dan Geiger, Staff Writer, is reachable at DGeiger@Observer.com
100 Church Street
,
123 Williams Street
,
25 broadway
,
Bill Peters
,
Brian Waterman
,
Daoud Awad
,
Derek Trulson
,
Hal Stein
,
Healthfirst
,
Jimmy Kuhn
,
Jonathan Fanuzzi
,
Lance Korman
,
sapir organization
,
JLL