The (New) Wizard of Menlo Park
---
---
In January, a leak to the Bergen County Record revealed that Panasonic, a tenant in New Jersey since 1973, was considering fleeing the state in search of modern facilities and with an eye toward shrinking its North American headquarters. New York, Atlanta, Chicago and California were all on the table.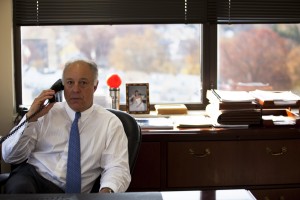 The electronics giant also began looking within the Garden State, with assistance from northern New Jersey's biggest office brokerage—Newmark Knight Frank—under the direction of the firm's top national producer, chief operating officer David Simson.
Mr. Simson's team took a hands-on approach, first by analyzing the commuting patterns of each employee at Panasonic's national office and then by calculating how much space each would need, taking into account how many deserved private offices. After that, they drew up plans so that the right departments would be next to one another.
Last week, Mr. Simson presented a rendering of the 250,000-square-foot asset that, once completed, will be Newark's first new office tower in decades, said Newark Mayor Cory Booker in the months leading up to the lease. The property will house Panasonic, which signed a lease in June for the entire building, said Tim Greiner, the lead on the Panasonic team for Newmark.
"This day marks the beginning of what will be incredible growth for Newark, what will be jobs, increased economic dynamism, an expansion of opportunity and a multiplier of benefit effects to our city," said Newark Mayor Cory Booker during an April 20 press conference announcing the development.
The Gensler-designed edifice, which will receive $100 million in urban-transit-hub tax abatements from the State of New Jersey, is emblematic of the way deals are being done in this market right now: they are managed end-to-end by one brokerage, they are usually signed within the same submarket in a "flight to quality," and they often utilize generous—and effective, if at times controversial—inducements from the state.
(The tax abatements in the Panasonic deal have so far spawned one lawsuit and a dollop of criticism, though you won't see any complaints from the brokers or the tenant.)
Theses factors have allowed the suburban New Jersey office market, which is the fifth largest in the nation and third-most-replete with Fortune 500 companies, to feel the economic downturn a bit less than elsewhere.
In fact, the past two years have shined on Newmark Knight Frank's New Jersey office. In 2010, New Jersey laid claim as Newmark's top-producing suburban brokerage house nationally, and this year Mr. Simson and his Garden State team have racked up nearly a million square feet in deals for the likes of the huge pharmaceutical company Novo Nordisk, PNC Bank and Quality Technology Services' northeastern hub, he said.
Newmark, and Mr. Simson, is active on the landlord side as well. Newmark exclusively represents the only two new developments under way in New Jersey—Centra Metropark, a 110,000-square-foot rehabbed office park in Middlesex County, and 175 Park Avenue, a 280,000-square-foot office rising in Madison. Both complexes were developed by Hampshire Real Estate Companies.
Barry Gosin
,
David Simson
,
Garner Simson
,
GVA Williams
,
Kohn Pedersen Fox
,
Mayor Cory Booker
,
Newmark Knight Frank
,
Novo Nordisk
,
Panasonic
,
PNC Bank
,
Quality Technology Services
,
Tim Greiner