Reckson's Suburban Chief, John Barnes, Predicts Slow but Steady Recovery
---
---
As senior director of suburbs for Reckson, a division of SL Green, John Barnes is one of the region's most prolific brokers, in both Westchester and Fairfield counties. Mr. Barnes, 44, spoke with The Commercial Observer about how each region has weathered the downturn, positive indicators and what they're showing, and the deals in his pipeline.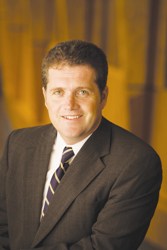 The Commercial Observer: Earlier this year—May, to be precise—you mentioned that occupancy numbers in Westchester County were beginning to tighten up, with the vacancy rate clocking in at about 16.5 percent. How is Westchester looking today?
Mr. Barnes: There's not been a tremendous change. The White Plains CBD, for example, is still hovering around the 16 percent range—so not a lot has changed there.
WestMed announced a large expansion plan in Westchester and other private medical groups seem to be flocking to the area. Are we beginning to see a medical boomlet?
BioMed [Realty Trust] has been a big industry throughout the year. We had BioMed work out an [$18 million] deal in Ardsley Park [for the purchase of a 159,000-square-foot campus]. So that's been a big boost, and there's been some other things that have helped boost the market. Since earlier this year, we've also seen a repurposing of some of the tired, old inventory, which is big for the market. There's some product that's certainly tired. In the last year or so we've had Fordham take 400 Westchester Avenue and the same thing at 500 Westchester Avenue—Sloane Kettering has taken that space.
Earlier this year Starwood Hotels & Resorts announced it would leave Westchester County, and, with it, more than 200,000 square feet of headquarters space and an entire building along the Interstate 287 corridor. What's the latest with Starwood, and will new tenants step up to fill the void it is leaving in Westchester County?
I believe that was the hotel that's moving out. That's going to Stamford. I don't believe that move has taken place just yet.
In Fairfield County, where vacancy rates earlier this year were slightly higher than those in Westchester County, have those vacancy numbers corrected themselves at all since UBS announced that it would stay in Connecticut for an additional five years?
As far as Fairfield County, the overall county vacancy rate has dropped a bit, and there has been at least some good news related to UBS, which takes some uncertainty out of the market. They've committed to Stamford and to Connecticut, to keep a number of jobs in Fairfield County. Removing that uncertainty was certainly a boost to the Stamford market—for sure.
What have you, personally, been working on over at Reckson?
We've been working on a lot of large tenant renewals that we've done over the last few years so, generally, right now, we feel good about the health of our portfolio. We've been able to replace some large tenants with some of the give-backs they had with smaller tenants—so that's good news for our portfolio. We have a good deal in the pipeline right now, and we've taken care of most of the large tenant renewals over the last two years. Generally, we feel pretty good about the health of our portfolio.