EXCLUSIVE: New Hedge Signs 9,000 SF–And it Hasn't Even Launched Yet.
---
---
Falcon Edge Capital, a soon to be launched hedge fund, is taking almost 9,000 square feet at the high-end office building 660 Madison Avenue.
The firm, which will begin operations in 2012 according to reports, was formed by celebrated young investment professionals Rick Gerson, formerly of the major firm Blue Ridge and Navroz Udwadia or the well known investment company Eton Park Capital Management.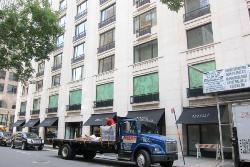 The company will be taking a portion of the 23-story, 250,000 square foot building's 19th floor in a lease that streches for 10-years. According to a source, rents for the lease were around $120 per square foot to start and rise to $130 per square foot after five years, making the transaction one of the most expensive to get signed in recent weeks as deal flow at upper tier of the market has begun to slow in the face of lingering economic uncertainty and problems in Europe.
The building is owned by the Safra family, a group that is as the helm of a substantial banking empire based in Brazil.
Jones Lang LaSalle brokers Alexander Chudnoff and Dan Turkewitz represented Falcon Edge in the deal. Mr. Chudnoff, who is known in brokerage circles as part of a small group of brokers who have a specialty in doing expensive deals in trophy buildings with boutique investment firms, said that 660 Madison Avenue's space impressed the tenant.
"I think we were excited and energized by what the building is evolving into," Mr. Chudnoff said. "It has a European feeling to it, really nice stone, travertine ceilings. It has the feeling that the landlord wants this to really be a home for tenants, not just an office."
Paul Amrich, who along with fellow CBRE executives Sacha Zarba and Neil King, represented the landlord in the deal, highlighted the recent renovations at the property as a major draw for tenants.
"We just completed the lobby, we've changed the heating convectors at the windows in order to give the offices nearly floor to ceiling views," said Mr. Amrich, who is the agent for a number of trophy buildings in the city, including 510 Madison Avenue. "There's really been a great response from tenants."
Dan Geiger, Staff Writer, is reachable at DGeiger@Observer.com
Alexander Chudnoff
,
CBRE
,
Dan Turkewitz
,
Eton Park Capital Management
,
Falcon Edge Capital
,
Jones Lang LaSalle
,
Navroz Udwadia
,
Neil King
,
Paul Amrich
,
Rick Gerson
,
Sacha Zarba
,
Safra family