The negotiations behind Aegis Media's renewal and renovation deal at 150 East 42nd Street
---
---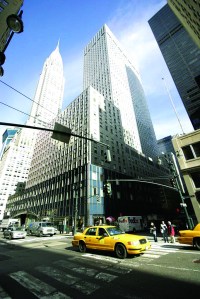 It was a dramatic growth spurt that prompted Aegis Media to reconsider its commercial real estate options in New York 18 months ago. But it was a commitment by the group's landlord that ultimately convinced the London-based digital media company to renew its lease at 150 East 42nd Street.
To hear it from Aegis Media chief financial officer David Wein, the digital company had been growing significantly over the past two years thanks to a rush of recent hires within its 94,000-square-foot space on the 13th and 14th floors of the Hiro North American Properties asset.
Foreseeing continued growth in the U.S. in the next two years—and with its current sublease expiring at the end of 2013—Aegis was confronted with a conundrum: should it ride out the remainder of its lease while looking for new real estate or stay put and spruce up its three-year-old digs?
"We weren't necessarily tied to [our current offices], but, obviously because we are here it's easily accessible to all of our work force," said Mr. Wein during a phone interview last week. "So that was one of the factors of staying in this area."
Richard Bernstein, 58, a broker at Cassidy Turley who represented Aegis Media alongside his colleague Adam Ardise, said Hiro North American Properties and its representatives from CB Richard Ellis understood the value of keeping Aegis Media satisfied at its current space.
On Aug. 8, after five months of negotiations, CB Richard Ellis and Cassidy Turley worked out a deal to extend Aegis's lease for 15 years while also agreeing to an extensive renovation plan for the offices as well as an option to expand if the growth spurt continues as planned.
The asking price was $58 per square foot, said Mr. Bernstein. He declined to provide the final value of the lease. CB Richard Ellis declined The Commercial Observer's request for an interview.
150 East 42nd Street
,
Adam Ardise
,
Aegis Media
,
Carat
,
Cassidy Turley
,
CB Richard Ellis
,
David Wein
,
Hiro North American Properties
,
iProspect
,
Isobar
,
Richard Bernstein