Concrete Union Strikes at WTC—Now What?
---
---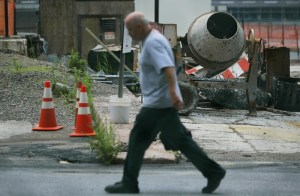 So much for things humming along at the World Trade Center. A handful of concrete unions have walked off the job, and while it has not immediately jeopardized work on the site, should the strike drag on, progress on the office towers could come to a halt weeks away from the 10th anniversary of 9/11. At its current pace, 1 World Trade is poised to pass the 1,000-foot mark by then, which may have no technical significance but does have a nice ring to it, for all those pols poised to give speeches.
The strike, if it lasts, will not affect the one thing people are most concerned about: the work stoppage will have "no impact on construction of the 9/11 Memorial," a Port Authority spokesman told The Journal, meaning it will still open for the anniversary. But workers tell NY1 that they expect fellow hardhats to walk off the site if their demands are not met, which could have a wider impact on construction. As it stands, it could be a few days or weeks, depending on which piece of the project is affected, before other workers will not be able to proceed without concrete.
Some of the concrete workers told NY1 it was politics and the economy causing them problems:
"They want to cut us whatever it is, 5, 10, 20 percent, they want to take from us," said Salvatore Merlino of the Cement and Concrete Workers Union. "All these years, we built this city."

"We mainly did this because they tried to give us a pay cut," said Luis McCoy of the Cement and Concrete Workers Union. "We make a nice amount of money, and they're trying to take it down, because it's all about politics."
But other unions are standing up to the concrete workers. Louis Coletti, president of the Building Trades Employers Association, told Crain's "The World Trade Center site should not be held as a bargaining chip in these negotiations."
"These negotiations" would be the reworking of all union contracts, which were set to expire July 1. Some worked theirs out before while others went right up to the deadline, namely the crane operators, without whom almost no project can continue—they have been called the aristocrats of the construction unions. Besides the concrete unions, the sheet metal workers and carpenters are still without new deals, according to Crain's.