Upskirt! A Sexy Solution to the WTC's Ugly Bottom
---
---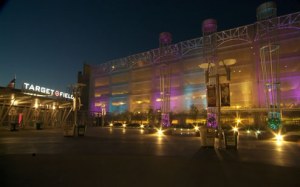 A few weeks ago, it was revealed that the shimmering base of 1 World Trade Center was crumbling, literally. The fancy glass facade meant to mask a 20-story concrete bunker at the base of the building was proving too difficult to manufacture, and an alternate solution needed to be devised. The next day, a reader emailed us with a novel solution, but only now do we realize it is the perfect one.
A reader named Kevin sent along a YouTube video of a giant wind veil that had been constructed at Target Field, the year-old home of the Minnesota Twins. Measuring 285 feet long by 60 feet high, the sculpture by California artist Ned Kahn is stretched across a four-story parking garage–not typically the prettiest of structures. When the wind blows across the 51,000 individual panels, they ripple in dramatic fashion. At night, when most people are heading for their cars after the game, the screen is illuminated by color-changing LEDs. It's like a technicolor dream dress swishing its way down the catwalk.
Which is why this would be the perfect solution to the unsightly problem of 1 World Trade's bomb-proof base. What better way to herald the arrival (in four years) of uber-chic Condé Nast at the building than to stick a giant 20-story skirt on the bottom of the tower.