Too Rich: 'Windowless' World Trade Center Goes Down Easy
---
---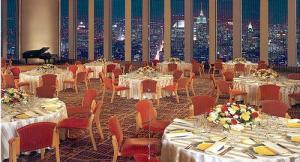 The knives came out yesterday when it was revealed the Port Authority had decided to forego a restaurant atop One World Trade Center, a la Windows on the World. "It's world-class heartbreak for lovers of sky-high dining," wrote the Post's Steve Cuozzo. But the agency appears to have made an appetizing decision.
Despite the fact that the original Windows was for a time the top-grossing eatery in the world, the Port expressed concerns about whether its latest iteration could turn a profit, especially in a city rife with newer restaurants. Consider the aging Rainbow Room at Rockefeller Center, which closed two years ago, after much acrimony, because Tishman Speyer determined it would be more profitable as office space.
Maybe that's less romantic, but it's also the reality of Manhattan real estate and restaurants. Both establishments, not unlike the still-shuttered Tavern on the Green, are fusty tourists traps by today's standards.
"We do not build vanity projects at the top of tall buildings," Port executive director Chris Ward said in a statement. "We are committed to finding the highest, best and most practical use for this space–one that does not require subsidizing a restaurant with public money for years to come. And the view, of course, will be accessible from our observation decks."
In a way, this is another sign that Ward is serious about seeing the World Trade Center through, on time and on budget, and doing away with the sentimentality that hobbled ground zero for years. It is an amuse bouche following the decision to do away with the Freedom Tower name, finally settling things with Larry Silverstein, and bringing in the Durst Organization to help run the project.
Ward said as much at a Crain's breakfast last year: "Just like we had to start treating the World Trade Center site like a construction project, we had to start treating this building like a commercial office building. The monumentalism could come later."
Ward had previously scaled down the proposed restaurant from two stories to one, but even then the restaurateurs consulting on the project–among them Tavern, Windows and Strip House, according to the Post–determined it to be unprofitable. Like a heaping plate of brussel sprouts, not every New Yorker may like this news, but sometimes you have to eat what's good for you.