Trinity Boss Lets Slip Plans for Hudson Square Rezoning
---
---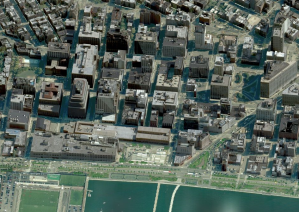 A decade ago, Hudson Square was not even a neighborhood, just a printing district on the wane with Soho expats moving into many of the soaring brick loft buildings. It was an unglamorous cobblestone neighborhood north of the Holland Tunnel where garbage trucks and tour buses frequently idled.
Since then, new super-luxe condos and even a controversial hotel have risen, along with plans for a new garbage depot that has drawn vehement opposition from the growing number of residential neighbors–among them a number of celebrities, including Lou Reed, James Gandolfini and Jennifer Connelly–who argue it will push the neighborhood backward rather than forward.
Most of the area's property has long been controlled by Trinity Real Estate, the development arm of one of the city's oldest churches. Its new president, Jason Pizer, summed up the rapid tranformation of Hudson Square rather succinctly in an interview with The Times this weekend:
Q You have a history of renting to media companies.
A It was primarily printing at one time. When I started here in 1999, we were still about 65 to 70 percent printers. Today we do not have any traditional printers in any of the office space.
Yet those many media companies may not last much longer, as Pizer revealed in the same interview that Trinity is currently pursuing a rezoning of the area that would further increase the number apartments in the area, likely through the transformation of some of those office lofts, a la DUMBO.
Q Where do you stand in your efforts to get the area rezoned to include more residential development?
A To go through a large rezoning like this you have to have the community board and city planning sign off. There's a lot of negotiating that needs to go on with city agencies, so we are in that process now.

Q Is it your goal to help turn Hudson Square into a bona fide downtown neighborhood?
A Yes. My goal is also to increase the value of our real estate. I want the buildings to become more valuable over time and the rents to rise, so the church can continue its mission in ministry, and the way to do that is to create a 24/7 neighborhood. If that requires a residential component, then that's the avenue we're going to pursue.
Calls to Trinity have not been returned, but a City Planning spokesperson confirmed that preliminary discussions have taken place regarding a rezoning. When more news emerges from the tunnel, you'll hear it here first.