Financial Tech Firm Stretches in Durst's 675 Third for 10 Years
---
---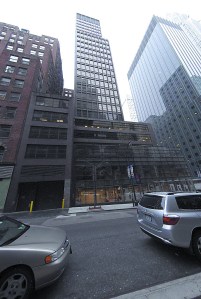 675 Third Avenue
SS&C Technologies has already proven it can gobble up smaller companies; now it turns out it's got a similar appetite for space.
The financial technology firm, which has acquired several companies in the last year, including TD Ameritrade last month, has now taken 26,000 square feet of extra legroom at 675 Third Avenue. The deal more than doubles its space in the building to 51,000 square feet.
The company will stay for 10 years, which is good news because it will occupy five floors, or 15 percent of the building. The Durst Organization's Class A prize sits at 42nd Street and is also home to residential real estate firm Prudential Douglas Elliman.
"SS & C Technologies was determined to grow their Manhattan office without having to relocate into a new building and thereby undertake the financial and logistical challenges of a move," said Michael T. Cohen of Colliers International in a statement.
But be warned, little trading firms, this could be just the beginning of SS&C's buying binge. "Having their new and expanded offices in the same building," said Mr. Cohen, "will allow SS&C Technologies to focus all of their energies on creating new technology for the global financial services industry."
Asking rents in the building are around $52 per square foot, according to MrOfficeSpace.com.
Mr. Cohen and Leon Manoff represented the tenant on behalf of Colliers International. Tom Bow and John Grotto represented the landlord in-house.